College of Business Graduate Associates Take Part in a Dallas Cultural Experience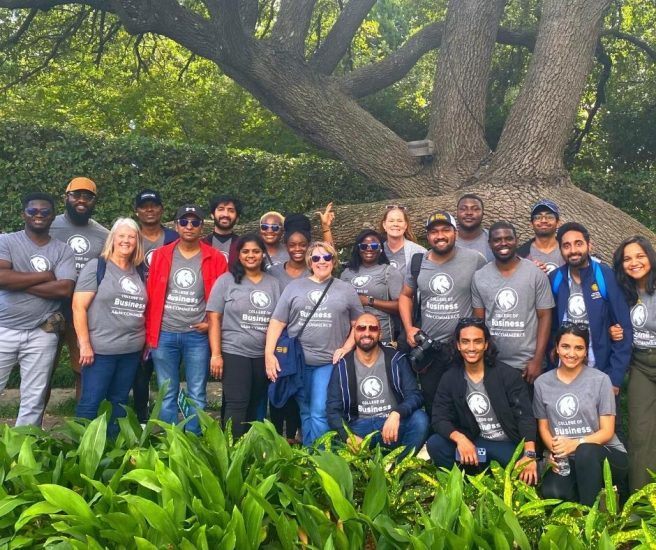 The administrative associates from the College of Business hosted their graduate assistants (GAs) on October 23, 2022, to a fully immersive cultural experience to discover Dallas and Texas.
Dubbed "Exploring Texas", the administrative associate team planned the event to further bond with their GAs outside of the workplace while strengthening team unity and cross-departmental cooperation.
As all GAs are currently international students, the trip was designed to be a transformative experience whereby the students discovered some of the biggest highlights in the DFW area. The itinerary included stops at the beautiful Dallas Arboretum, the iconic Reunion Tower, the must-see Ft. Worth Stock Yards, and more.
Billie Abell, administrative assistant to the dean, commented on the trip saying: "This was such a fun experience! The students had an amazing time learning about our Texan culture and exploring the historical landmarks."
"I'm happy for the chance to be a part of such a fantastic and instructive experience that highlighted a cultural variety of all things Texas," Graduate Assistant Florence Olinmah said.
Another GA, Amitava Bapi, added: "This was a memorable experience where I had fun learning about the culture of Dallas, Ft. Forth, and Texas with an amazing team of students and Administrative Associates."
Elvis Agbadoku, a GA in the Department of Accounting and Finance said, "I really had an amazing time exploring Texas. Thanks to the College of Business for this golden opportunity and for always planning activities and events that allow us to engage with others across our community and beyond!"