Commerce Sculpture Dedication Set for Dec. 9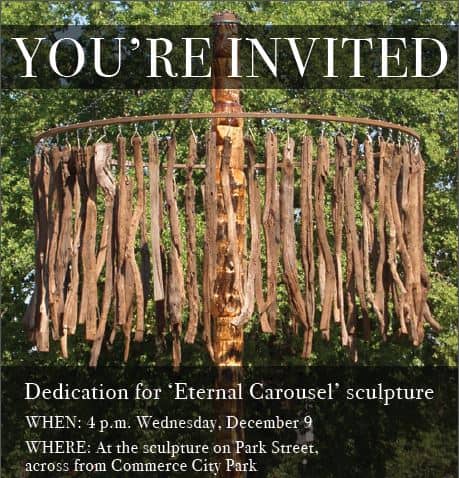 Edited by Julia Gessner and Sara Wray
A dedication for David Zvanut's sculpture in Commerce, "Eternal Carousel" will be at 4 p.m. on Dec. 9.
The public is invited to the dedication, which will take place at the sculpture across from Commerce City Park on Park Street. The sculpture was funded by Hunt County Public Art, a project of Keep Greenville Beautiful, using proceeds from the 2015 Hearts for the Arts Gala fundraiser.
"We're thrilled to be able to celebrate the completion of this wonderful work of art," said Kim Cartier, executive director of Keep Greenville Beautiful. "David's sculpture is both original and eye-catching, and we're proud to be a part of putting public artwork by local artists here in Hunt County."
Ownership of the sculpture will officially be turned over to the city of Commerce during the event. The Commerce City Council voiced support for the project and allowed the sculpture to be built on city-owned property where the public can enjoy it. Going forward, Zvanut's large-scale artwork could become the centerpiece of a new sculpture park if local artists and funding line up in the years to come.
"It's great to see so many people rally around local art and artists," Zvanut said. "Art is a big part of the Commerce community, and bois d'arc wood in particular has a local significance for this area. I'm glad we could work together to do something new and creative to share with the world."
Hunt County Public Art is in the process of planning its major art projects for 2016. Funding for the artwork will be raised at the next Hearts for the Arts Gala on Feb. 6, 2016 at the Emerald Ballroom behind Landon Winery in downtown Greenville.
For more information, contact Byron Taylor at 903-456-5518.