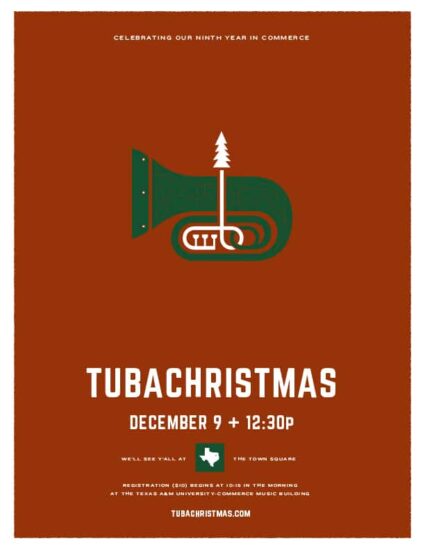 Over 50 area tuba and euphonium players will present the ninth annual Commerce Merry TUBACHRISTMAS concert on Saturday, December 9th. The performance will take place outdoors on the square in downtown Commerce at 12:30 pm, conducted by A&M-Commerce Professor of Tuba and Euphonium, Dr. Jeff Baker.
TUBACHRISTMAS was conceived in 1974 by Harvey Phillips as a tribute to his teacher and mentor William J. Bell, born on Christmas Day, 1902.
The music performed will be from Carols for a Merry TUBACHRISTMAS, which is featured at all official Merry TUBACHRISTMAS concerts.
"This will be a festive event that is family-friendly and guaranteed to put a smile on everyone," said Dr. Baker.
The concert, free of charge and open to the public, is presented by the Texas A&M University-Commerce Music Department and the Harvey Phillips Foundation. TUBACHRISTMAS concerts are performed annually in over 200 cities throughout the world. Persons of all ages who play the tuba, sousaphone, euphonium, or baritone horn are cordially invited to perform in this concert.
The Harvey Phillips Foundation focuses special attention on musical instruments not ordinarily the object of other support.  The Foundation facilitates its goals by providing scholarship assistance to selected established institutions which offer academic and music performance training.
Registration is from 10:15-11:00 a.m. and will be followed by a music rehearsal from 11:00 a.m. to 11:45 a.m. The registration and rehearsal will take place at the Texas A&M University-Commerce Music Building. Participants should dress in accordance with the prevailing weather conditions. The registration fee for participants is $10.00 and music books may be purchased at registration for $20.00.