Continuing the Arnold Legacy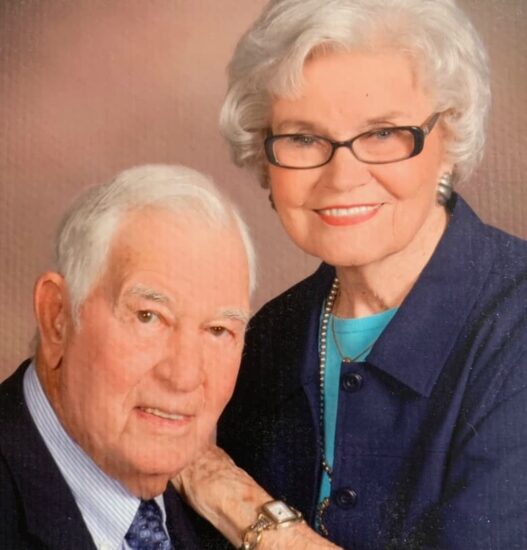 Dr. Roger and Mrs. Jean Arnold have dedicated their lives to education, graduating from the East Texas State Teacher's College and spending their careers pouring knowledge into their students. We're honored to continue to share their legacy and commitment to continued education through the Dr. Roger & Mrs. Jean Arnold Agriculture Scholarship Endowment.
Both Roger and Jean made their way to ETSTC in the mid-1940s, obtaining their college degrees and each other's attention. Following her studies, Jean committed first to nurturing her own children through early childhood before she began her teaching career. Her educational influence spanned 22 years as she prepared Sulphur Springs High School students with practical skills. She taught typing, shorthand and accounting – subjects that benefitted all young people.
"I loved business classes when I was in school, so I wanted to share my passion with students. I enjoyed the daily interactions and wanted to bring value to what they would do in the future," Jean said.
Following his undergraduate studies at ETSTC, Roger taught agriculture at North Hopkins High School, departing to earn his master's degree from Sam Houston State University (SHSU). During his time at SHSU, Roger encountered Dr. James Gee, a retired military colonel, larger-than-life personality and future president of ETSTC.
"Dr. Gee sent a letter offering the world if I would come to ET, which I threw in the trash," Arnold said. "I knew Gee from Sam Houston; he wore his uniform there and made us salute him. He was tough and I wasn't interested. But, a couple of weeks later, Gee sent another letter that scared the hell out of me, so I decided I better accept his offer." This would begin one of the greatest tenures in agricultural education in the university's history.
From 1966-1992, Roger Arnold influenced thousands of students at ETSU. He was a prolific recruiter, utilizing working scholarships – meaning students referred to as "farm boys" would work on the university farm to earn their scholarship – to recruit students throughout the Northeast Texas region. A fearless competitor, Roger created an agriculture network that drew hard-working students into agriculture business and education.
ETSU alumnus Ted Conover said, "He influenced a lot of kids and helped position us for success in our careers. I couldn't repay the debt I owe to him."
The Arnolds continued to build their Lion pride throughout the decades. Together, Roger and Jean, their sons, and their daughter-in-law have earned eleven A&M-Commerce degrees. The couple, now in their early 90's, continue to stand firm on their belief in the power of education.
The scholarship, which was started by Texas A&M University-Commerce alumni, friends and mentees, was awarded to its first recipient in Fall 2018.
"This endowment will serve to honor and recognize Roger and Jean and their contributions to education as well as provide pecuniary awards for students who need assistance in order to attend and complete their educations," Dean of the College of Agricultural Sciences and Natural Resources Dr. Randy Harp said. "There is a great demand for agricultural science teachers. At TAMUC, we serve the number one area of Texas for FFA enrollment. Thus, we need financial assistance so students can reach their dreams and complete educations that will prepare them for lifelong careers in agricultural education."
If you are interested in supporting this endowment to honor the lives and careers of the Arnolds, please contact the Office of Advancement.