Dr. Ben Jang Wins Regents Professor Award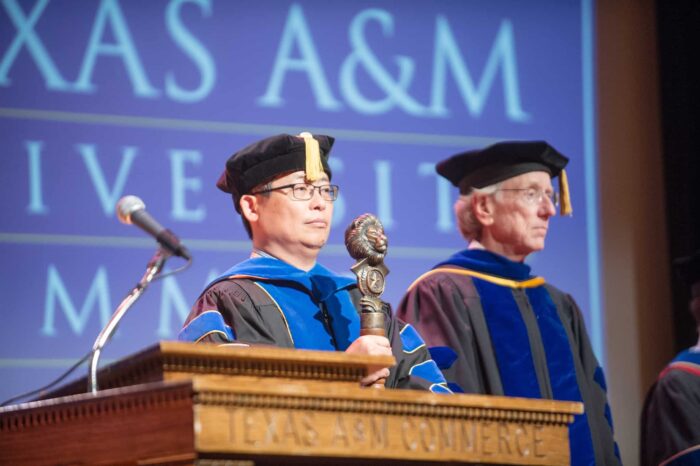 Department of Chemistry Department Head and Professor, Dr. Ben Jang reached a new high point in his career at Texas A&M University-Commerce when he became one of ten professors from seven different universities across The Texas A&M System to receive the Regents Professor Award this year.
"The Regents Awards allow us to show our outstanding faculty and researchers that we value their contribution to The Texas A&M System," said Board Chairman Phil Adams. "The recipients come from different backgrounds and areas of expertise, but the common thread they have is their dedication to their professions and The A&M System."
Winner of the H.M. Lafferty Distinguished Faculty Award for Scholarship and Creative Activity in 2007, Jang is also the chair of various symposia at the ACS National Meetings, and guest editor of Energy & Environmental Sciences, Green Chemistry and Catalysis Today journals. He has given much to the university through his role as adviser of the Chinese Student Association, International Fellowship Association, and Taiwanese Student Association; a member of the Academy-Regents' Initiative of A&M-Commerce; and a member of the International Student Committee, Graduate Council, Faculty Senate, Budget Committee, University Strategic Planning Committee, and the Facilities Advisory Committee.
"It's a great honor to be named a Regents Professor of The Texas A&M University System," said Jang. "I look forward to having a greater impact on campus and within the community. My goal is to educate and pass on my life experiences, while having fun."
The Regents Professor Award program was established by the Board of Regents in 1996 to recognize employees who have made exemplary contributions to their university or agency and to the citizens of Texas. To date, 189 A&M System faculty members have been recognized with the Regents Professor Award.