Dr. Shannon Carter Wins MLA Award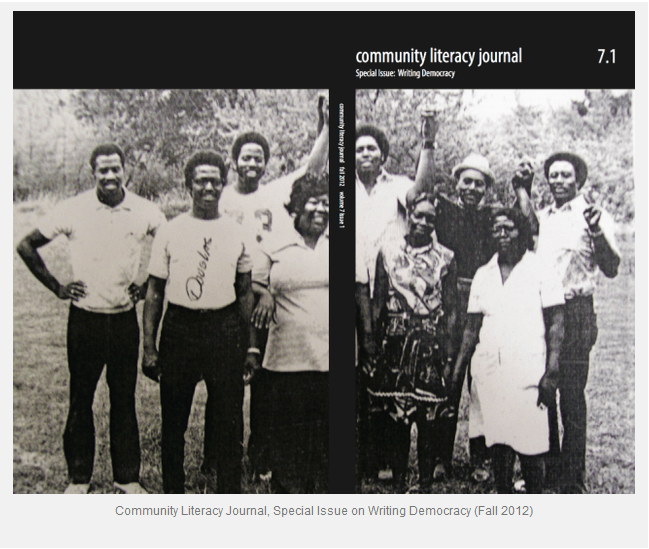 Texas A&M University-Commerce Associate Professor of Literature & Languages, Dr. Shannon Carter, was recently granted the Council for Editors of Learned Journals 2013 Award for Best Public Intellectual Special Issue for her work as guest editor of The Community Literacy Journal's Writing Democracy issue. The award was granted at the 2014 Modern Language Association (MLA) conference in Chicago, Ill. MLA is the most respected organization and conference within the humanities.
The Community Literacy Journal is a biannual publication that features articles written by major scholars from across the United States. Carter co-authored guest editor Dr. Deborah Mutnick's introduction for the Writing Democracy issue, as well as contributing an article about activism on the A&M-Commerce campus in the late 1960s and early 1970s.
"This award is a privilege and honor for Dr. Carter and her colleagues," said Head of Literature & Languages and Associate Professor of English, Dr. Hunter Hayes. "It is a credit to our university that this research has been recognized. Community engagements like Dr. Carter's project strengthen the existing bonds between our campus and the people of Commerce. I am pleased to see this getting national recognition."
The Writing Democracy cover features a photograph taken in 1974 of an activist group featured in Carter's research: the Norris Community Club. It was established in 1973 by the African American students of what was then East Texas State University, in partnership with local citizens to provide "a clear channel of communication" between residents of Norris, a historically segregated neighborhood, and the City of Commerce. Carter has spent the last few years working closely with alumni and community members to recover forgotten or otherwise underrepresented stories of racial justice efforts across the area.  According to Carter, the cover image "serves as a powerful reminder of the very real, very concrete impact university-community partnerships can have."
The judges for the "Best Public Intellectual Issue" award category agreed. According to the Council for Editors of Learned Journals, contestants in the Best Public Intellectual Issue Award category must reach out beyond academe, connect with a popular audience in terms of accessible language and attractive presentation, and seek to achieve the democratic mission of higher education. Writing Democracy concerned itself with prompting the academy to function in ways that are directly useful to people outside the walls of the university.
The judges' remarks include praise for both the cover image and the impressive range of articles which discuss, in a scholarly fashion, the field's turn toward writing that emphasizes the widely-held believe that higher education should prepare students to participate in a democratic society.
Carter says the articles included in this special issue emerged from featured presentations delivered at the Writing Democracy conference that was held at A&M-Commerce in March of 2011.
"Stories like these have much to teach us about community service and civic engagement," said Dr. Carter. "Remembering them and celebrating them has been a key goal of mine from the beginning. As historical examples of civic engagement, they have helped inspire and guide many others to get involved and make a difference. Of everything I have done as a teacher and a scholar, this, to me, is what matters most."
For more information about the project, visit http://writingdemocracy.wordpress.com/.