Hackathon Competition, Fall 2021 – Facial Recognition Analytics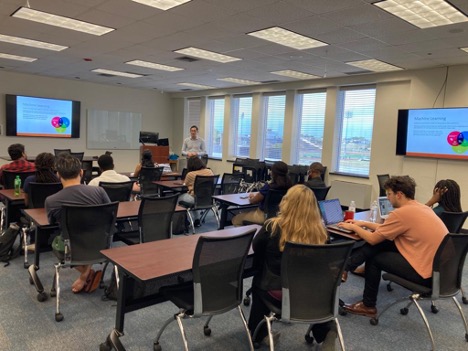 A hackathon competition is held every semester to give students the opportunity to acquire industry skills and experience by competing in teams with each other. Of course, in addition to invaluable experience, the cash prizes for student accounts make for a great reward as well.
The Fall 2021 Hackathon was themed Facial Recognition Analytics. It was a 10-day event which started on the 12th of October and ended on the 21st of October 2021.
The introductory session was held at the College of Business. It was a 1-hour step-by-step presentation training held by Faculty Advisor, Dr. Son Bui.
Teams who participated in the competition took the tasks home and worked together to submit a final presentation of their work and analysis which was graded by Alumni Judges to determine the winner.
After the event was concluded, the first-place undergrad team won $500, the first-place graduate team won $1,000 and two teams tied for second place won $250 each.
This was a great event and activity for the students who participated. One student reached out after the competition and shared that the experience allowed her to bring fresh insight to an interview and was one of the key reasons she secured an internship for the summer of 2022.