Honors College Student-Athlete Tops Charts in University Programs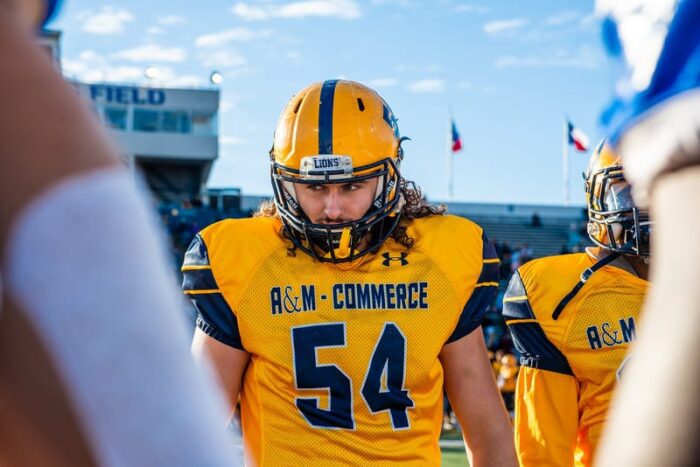 There's an age-old stereotype society has placed on athletes, or "jocks" as some would label them, that simultaneous success in sports and academics can't be achieved; that intelligence and athleticism don't go hand-in-hand. We Lions know otherwise.
Garrett Blubaugh, a senior linebacker for the Lions, has been a standout on the field throughout his collegiate career, but his scholastic performance as a full-scholarship student in the Honors College has obliterated the cliché of intellect that has followed athletes for centuries.
The highly selective and rigorous program offers full academic scholarships to its members, who must complete an array of additional studies, including a thesis project while holding a GPA of 3.3 or higher. Blubaugh managed to fulfill these requirements, earn the esteemed Elite 90 Award for holding the highest GPA in the 2017 NCAA DII Football Championship and secure a spot in the physician's assistant program at the University of Oklahoma-Tulsa, which he will start this summer.
Dr. Raymond Green, dean of the Honors College, said he is often reminded of the stereotype many still believe to be true.
"Sadly, I do think the 'jocks are dumb' stereotype still exists," he said. "Primarily I see it leak out when people ask if we have any athletes in the HC. When I say that we have a significant number they usually seem surprised and follow up by asking if they do well in their classes. I've not seen it negatively impact our students. If anything, I think our HC student-athletes revel in the challenge."
Blubaugh takes a "grain of salt" approach to the stigma, proving Green's theory to be true.
"Personally, I like to be stereotyped because that gives me the opportunity to prove people wrong; however, stereotypes are judgments placed on people without knowing all of the details, and that's something I don't support," Blubaugh said. "I guess there must be some truth to it, though; I did choose to get hit for fun!"
Lion Football Coach Yogi Gallegos spoke to Blubaugh's character and strengths that have allowed him to excel, stating that he is "hard-working, dedicated, trustworthy, honest, smart and instinctive."
"I think what really sets Garrett apart from his peers is the fact that he is genuine in his approach to all areas of his life," Gallegos said. "He is a guy who truly cares about people and is intentional about what he is doing."
But if you know Garrett, he'll tell you all of his success can be credited to one person only.
"Honestly, I didn't achieve this success myself," he said. "When I committed to A&M-Commerce on signing day, I had no idea if I would be accepted into the Honors College. I prayed I would get in, and the Lord answered. I showed up every day with a positive attitude and gave 100 percent effort, and He continued to provide."