Honors Recognition Ceremony Celebrates Graduating Scholars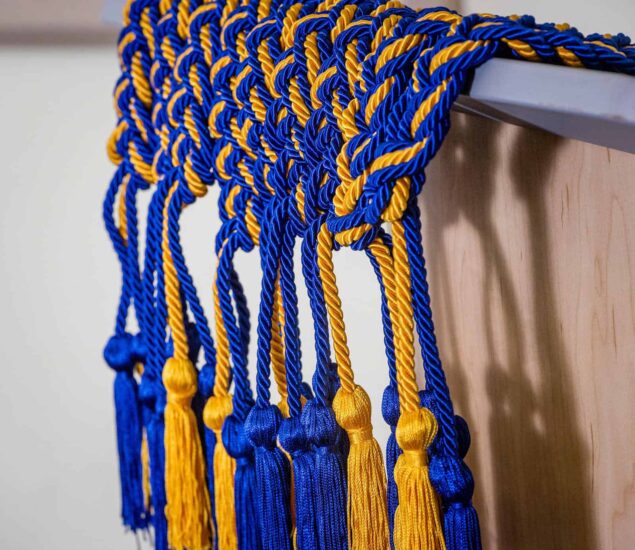 The A&M-Commerce Honors College recognized graduating seniors at an Honors Recognition Ceremony held December 7. The ceremony celebrated graduates from the Honors College, Regents Scholar Program and Honors Scholar Program.
Dr. Mark Rudin, president of A&M-Commerce, Dr. Raymond Green, dean of the Honors College, and Jennifer Hudson, director of the Regents Scholar Program, presented the students with decorum to wear at the commencement ceremony. Honors students received fourragéres while Regents Scholars received golden stoles.
In the weeks prior to the ceremony, seven honors graduates defended their theses. Students received honors, high honors or highest honors based on the overall quality of their written work and oral presentations.
Honors College honorees included Michelle Hodge, high honors, Cheyenne Price, highest honors, Elizabeth Rodriguez, highest honors, Laura Boshart, honors, Ja'Bria Miles, high honors and Rebekah Cooper, honors. Honors Scholar Program honoree, Lisa Latta, received high honors.
Honorees from the Regents Scholar Program included Hunter Allen, Bailee Mulcahy, Kinsleigh Sawatsky, Alex Williamson and Jasmyn Poe. Poe is also a Global Scholar, a designation given to students who travel abroad and participate in global studies through the Global Scholar Program.
Dr. Green is proud of this accomplished group of graduates. He stated, "Each of these graduating students has worked so hard and learned so much about their field of study and about themselves. It is a joy and honor to be along for the ride with them on their journey of discovery."
Green added that the Honors Recognition Ceremony "is the highlight of each semester as we get to focus all of our energy on the celebration of our students."