Institutional Effectiveness Spring Series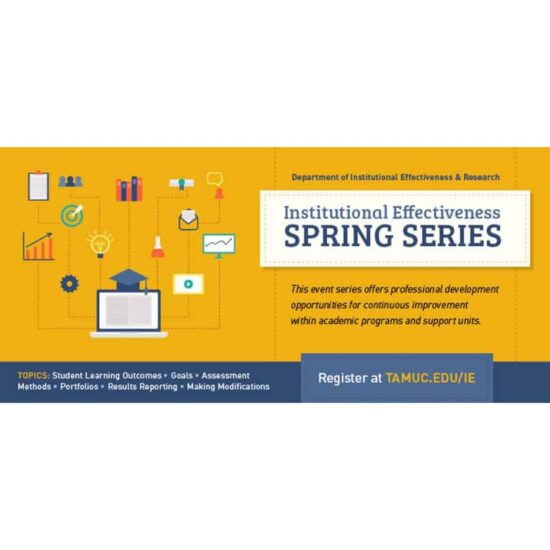 This spring semester, the Department of Institutional Effectiveness combined efforts with the Center for Faculty Excellence and Innovation, the Office of Training and Development and other volunteers to offer a series of workshops and panels designed for Institutional Effectiveness Authors and others involved in the Institutional Effectiveness Process.
Each event offers content knowledge and best practices in an active workshop setting or in a panel discussion format. The IE Spring Series has been offered as a peer-to-peer experience aimed at strengthening the growth of existing efforts towards continuous improvement at Texas A&M University-Commerce.
"It was a privilege to be a part of a professional development series which truly embodied the tenets of continuous improvement," said facilitator Dr. Felicity Grandjean. "It is helpful for all of us to be mindful all year long about our purposes and goals/outcomes of our programs. The Spring Series has really helped me to see I.E. reporting as a true process."
The events already offered have explored developing goals,  student learning outcomes, considerations when choosing assessment methods, the use of portfolios as a program assessment tool and effective results reporting. To offer a more targeted experience, the panels and workshops for Support Units have been offered separately from the panels and workshops offered specifically for Academic Programs.
"I attended four out of five workshops/panels in the IE spring Series and it was a great learning experience as a new member of department's IE committee responsible for the MS in Biological Sciences program," shared assistant professor from the Biological and Environmental Sciences department, Dr. Izhar A. Khan. "The workshop format worked better for me, especially in regards to the selection of assessment methods and the role effective results reporting plays in the program evaluation."
The last round of the IE Spring Series events addressing ideas on how to make modifications for continuous improvement will take place in BA 343 on May 1st, 2017 at 10am (for Academic Units) and on May 8th, 2017 at 1:30pm (for Support Units).
For more information about the Department of Institutional Effectiveness and Research and to register for the IE Spring series, please visit https://www.tamuc.edu/IE