Jim Cramer of CNBCs Mad Money to Be Broadcast to University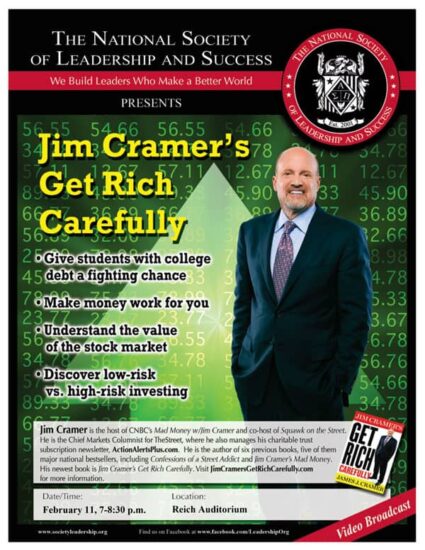 Jim Cramer, the host of CNBC's "Mad Money" and co-host of "Squawk on the Street," will be featured in a broadcast event sponsored by the A&M-Commerce chapter of The National Society of Leadership and Success. The event, entitled Get Rich Carefully, will be held Feb. 11 at 5:30 pm in Ferguson Auditorium and is free to all students, faculty, staff and the community. The live event will be held at New Jersey City University and streamed to Society Chapter campuses nationwide. The broadcast event is expected to draw an audience of over 30,000 and is broadcast on over 500 campuses.
Cramer's presentation will be an hour in length and will focus on student finances and achieving financial success. Cramer is the author of several bestselling books and this month he published his 6th book, "Get Rich Carefully." With over 35 years of experience and a proven track record for success on Wall Street, Cramer has become one of the nation's trusted resources on financial markets.
This broadcast is the fourth in the 2013-2014 Speakers Broadcast Series sponsored by The National Society of Leadership and Success. The speaker series reaches more than 520 college campuses and 130,000 students each month during the academic year.
About The National Society of Leadership and Success
The National Society of Leadership and Success serves over 325,000 students on over 400 university and college campuses nationwide. The Society fosters a community in which students help one another succeed through Success Networking Teams, and offers its members access to life changing lectures from the nation's leading presenters. Members all over the nation are united in one community of leaders.
To learn more about the chapter at A&M-Commerce, contact Shonda Gibson at [email protected]