KETR to Host Conversation with Hall, Jones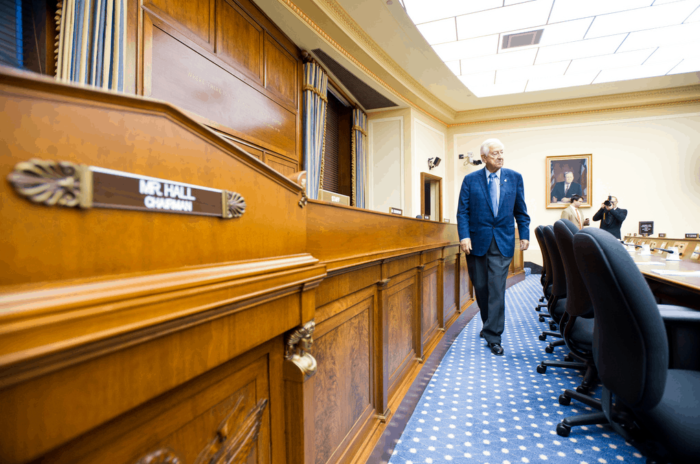 By KETR Staff
On April 2 at noon, Texas' 4th Congressional District Rep. Ralph Hall will join Texas A&M University-Commerce President Dan R. Jones for a live broadcast of 88.9 KETR's The President's Perspective.
Hall, the oldest serving member of Congress, will speak with Jones and KETR General Manager Jerrod Knight for the live broadcast from the studio headquarters of NPR in Washington, D.C.
"I'm excited for this opportunity to talk with Congressman Hall not only about his current and continued service to our district, our state, and these United States, but also about the contribution of his historic papers to the Texas A&M University-Commerce Library archive," Jones said.
Housed on the first floor of Binnion Hall on the A&M-Commerce campus, KETR is an NPR member station. Knight says that the station looks forward to creating live radio from the nation's capital through its partnership with NPR.
"We know that we're providing a unique service to our listening audience, offering a window into the real-time interaction between one of our most prominent local business and education leaders and our elected representative in Washington," said Knight. "We hope to be able to capitalize on this positive relationship in the future."
Jones' conversation with Hall will take place during KETR's Spring Membership Campaign, known as the "pledge drive." As a noncommercial educational broadcast operation, monetary contributions from listeners and programming sponsorship from local and regional businesses keep KETR on the air. The campaign is set to end on April 8, marking the station's 39th year broadcasting in Northeast Texas.
The President's Perspective is a monthly half-hour chat with the president and CEO of A&M-Commerce, which airs on the first Wednesday of each month at noon and again at 5 p.m. Archives of the radio program are online at ketr.org.