Latino American Mentorship Program presents at Texas Male Student Leadership Summit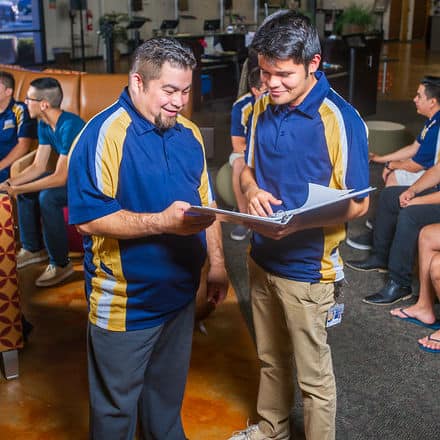 The Latino American Mentorship Program, or LAMP, cultivates leaders at Texas A&M University-Commerce. Recently, this group of students was chosen to present their research, "ROI/MOC: The Return on Investment of Men of Color Programs on College Campuses," at the annual Texas Male Student Leadership Summit at the University of Texas at Austin.
Each year the summit welcomes high school and collegiate mentorship programs from across the state to hear presentations focusing on brotherhood, leadership, college and career readiness, and health and wellness. The A&M-Commerce LAMP presentation highlighted the university's four Enrollment Management and RLL Affinity groups for diverse student populations and the critical need to continue programming and funding for students. Among the ROIs discussed were the financial benefits of providing programming for diverse students, academic achievement, graduation rates and retention rates, among the many other benefits. The program boasts a more than 90 percent university retention and graduation rates of men in the program.
"The ROI is the estimated amount that the university benefits from each investment dollar directed at students in these RLL programs," Director of Student Diversity and Inclusion Dr. Fred Fuentes said. "The results indicated that for each dollar invested, the university community benefits from more than $7 dollars in return through fees, merchandise, housing, class hours, books and meals plan, to name a few. We also saw the benefit of increased GPA."
Under the coordination of Dr. Fuentes, the men were provided guidance on their panel presentation as well as lessons on the importance of the presentation of themselves while at a professional conference.
"It's clear that our students benefit from the opportunity to learn more about higher education in regards to funding, mentorship and research," Fuentes said. "These men did an excellent job of researching one component of their undergraduate experience and were able to share it with university leaders, including staff directors, tenured professors and college presidents."