Latino Americans: 500 Years of History to Feature UC-Berkeley Professor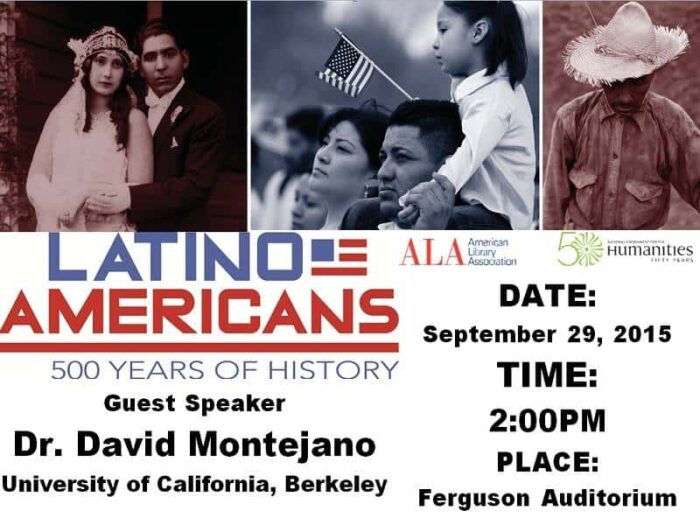 By Sarah Northam
Texas A&M University-Commerce is honored to host Dr. David Montejano, Professor of Ethnic Studies at the University of California, Berkeley, on Tuesday, September 29, 2015. He will be speaking in Ferguson Auditorium on the campus of A&M-Commerce at 2 p.m. Admission is free and the event is open to the public. According to Dr. E. Mark Moreno of the A&M-Commerce Department of History, Dr. Montejano's Anglos and Mexicans is a "seminal work in Chicana/o history and is especially important as a work on Mexican American history in Texas." Dr. Montejano's other publications include Quixote's Soldiers: A Local History of the Chicano Movement, (1966-1981) and Sancho's Journal: Exploring the Political Edge with the Brown Berets.
Dr. Montejano has served as Chair of the Center for Latino Policy Research, Director of the Center for Mexican American Studies at the University of Texas at Austin, and past Board Member of the New Mexico Endowment for the Humanities. In 1995 he was inducted into the Texas Institute of Letters. His major research areas include Comparative and Historical Sociology, Political Sociology, Social Change, Race and Ethnic Relations, and Community Studies. His historical overview, Anglos and Mexicans in the Making of Texas, 1836-1986, won the Frederick Jackson Turner Prize from the Organization of Professional Historians as well as multiple awards from other prestigious organizations.
Dr. Montejano's visit is made possible by the grant, Latino Americans: 500 Years of History, which was awarded to A&M-Commerce Libraries. The grant supports the American public's exploration of the rich and varied history and experiences of Latinos, who have helped shape the United States over the last five centuries.
The cornerstone of the project is the six-part documentary film "Latino Americans," created for PBS in 2013 by the WETA public television station and supported by the National Endowment for the Humanities. The award-winning series chronicles Latinos in the United States from the 16th century to present day. Learn more about the series at www.pbs.org/latino-americans/en/.
Latino Americans: 500 Years of History is offered by the National Endowment for the Humanities (NEH) and American Library Association (ALA). It is part of an NEH initiative, The Common Good: The Humanities in the Public Square.
A&M-Commerce Libraries coordinated with several departments across campus including ¡Profes!, the Office of Hispanic Outreach, and the Departments of Political Science, Literature and Languages and History to apply for the grant.
To request ADA accommodations, please communicate your needs to Sarah Northam at 903.886.5714.