New Location: Lions' Innovation Showcase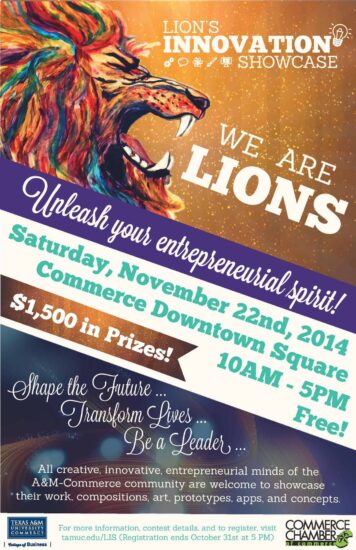 The first Lions' Innovation Showcase will take place on November 22 from 10 a.m. to 5 p.m. and will utilize a rain location–Ferguson Auditorium on the A&M-Commerce campus. The Lions' Innovation Showcase is an opportunity for all faculty, staff and students to promote their skills and creativity in their chosen fields.
"The purpose of the Showcase is to create a platform for students across campus to present their ideas to the community," said Assistant Professor of Management Mario Hayek.
The Lions' Innovation Showcase is an opportunity for members of the A&M-Commerce community to exhibit or sell the products they've invented to the broader community of Commerce. The idea of the event is in line with the university's mission to 'shape the future' and 'transform lives' by producing leaders and life-long learners. Students can showcase themselves individually or through their department. Student organizations can also exhibit their work, fundraise or promote their membership at the event. All participants will also be eligible to win a $1,500 cash prize for the top student exhibit.
"The Lions Innovation Showcase is a wonderful opportunity to display the abundant talents and creativity of our students, faculty, and staff," said President Dan Jones. "The Showcase is in perfect alignment with the university's core values of Integrity, Innovation, and Imagination. I look forward to being a part of this exciting inaugural event."
Texas A&M University-Commerce would like to invite the community to be a part of this unique and creative event. Community members will be able to witness exhibits and even buy creative and innovative products or services.
For more information, visit www.tamuc.edu/LIS or contact Mario Hayek at [email protected].