Lions Welcome Back National Champions on Homecoming Weekend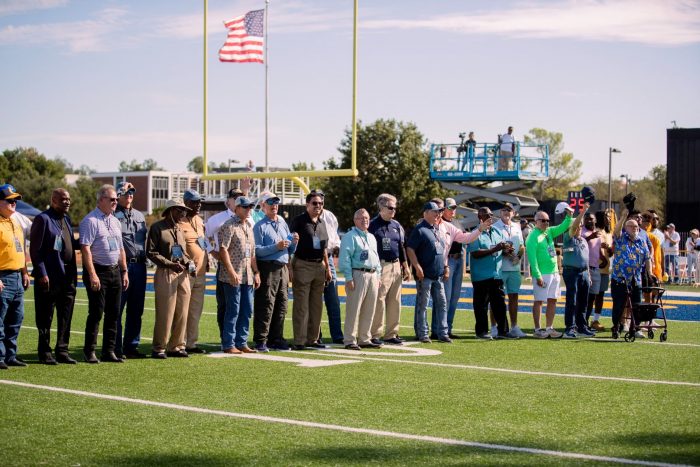 COMMERCE – Texas A&M University-Commerce welcomed back three of its national championship teams during homecoming weekend, who are celebrating special anniversaries. This year, the 1972 Football and Men's Tennis National Championship teams are celebrating their 50-year anniversary, it also the five-year anniversary of the 2017 Football National Championship team.
 
"As we enter a new and exciting era of Lion Athletics, it was great to have many former Lion greats back on campus during Homecoming weekend and have a chance to honor three of the teams that paved the way for this department, while reaching the pinnacle of their sport," said Interim Director of Athletics, Eric Coleman.
 
The three championship teams enjoyed Saturday's Lion football win over Houston Christian from the sidelines and were honored with an on-field recognition during the game. The current Lions collected a 31-3 win over HCU, A&M-Commerce's eighth straight win on Homecoming weekend.
 
The 1972 football team won the program's first ever National Championship on its home field, defeating No. 2 Carson-Newman College of Tennessee 21-18 on December 9, 1972, in the NAIA Division I National Championship Bowl.
 
"Yesterday was a special day for all of the 1972 National Championship Football Team as we celebrated the 50th year anniversary with many members of the team," said Lion Hall of Famer and former NFL player, Autry Beamon. "It is an accomplishment that is very special to everyone on the team and their families."
 
"Winning the national championship also brought all of the student body together as we celebrated with each other and the community. We are all thankful to the university and the current student body for sharing the special day with me and all of my teammates."
 
The Lion men's tennis team in 1972 won its first national tennis championship in program history. Harry Fritz won the National Singles Championship in straight sets and joined teammate Bob Hochstadter to win the National Doubles Championship. The Lions finished the national tournament with 37 points, winning by two points over Redlands. 
 
In 2017, the Lion football team was once again at top of the sport when it defeated West Florida, to win the school's first and only team National Championship in the Division II era.