Mathways MOU Allows for Seamless Transfer of Mathematics Credits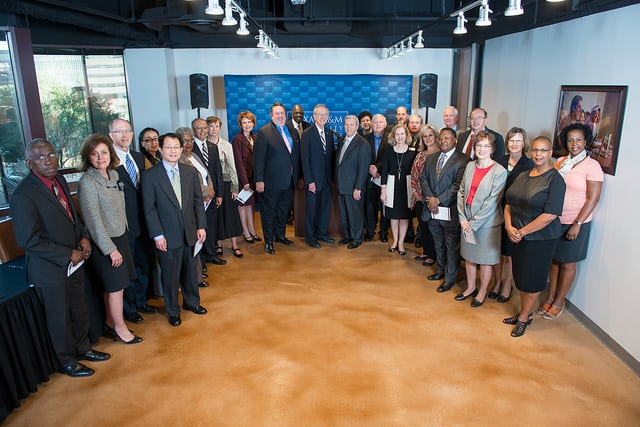 As a part of the innovative New Mathways Project, Texas A&M University-Commerce is pleased to sign a Mathways Memorandum of Understanding (MOU) with Brookhaven College, Cedar Valley College, Collin College, Eastfield College, El Centro College, Kilgore College, Mountain View College, Navarro College, North Lake College, Richland College and Texarkana College, and Tyler Junior College for an initiative that provides students with the opportunity to satisfy core mathematics requirements with courses applicable to their majors prior to transferring.
"The New Mathways Project is an innovative, research-based approach to increasing the graduation rate of transfer students in earning their baccalaureate degrees," said A&M-Commerce President Dan R. Jones, PhD. "It ensures that students are taking the math courses they need for the degrees to which they aspire and that they enter into university study fully prepared to succeed."
The Mathways Project is a collaborative effort by the Charles A. Dana Center at the University of Texas at Austin and the Texas Association of Community Colleges to encourage student success in community colleges by providing students with three options for core mathematics course requirements including statistics; quantitative literacy and science, technology, engineering and mathematics. In 2012, all 50 community college districts in Texas agreed to participate in the project.
"Through the New Mathways Project, the Dana Center has been working with Texas' fifty community colleges to implement multiple Math Pathways for many years," said Strategic Policy Lead for Higher Education at The Charles A. Dana Center at The University of Texas at Austin, Dr. Jenna Cullinane "College algebra is no longer the default course for all students. Colleges—and their transfer universities—are offering more courses in statistics and quantitative reasoning and aligning their mathematics requirements with the needs of students' majors. We know that when math content is more relevant for students, they are more successful."
The Mathways MOU that A&M-Commerce signed allows students to seamlessly transfer these college mathematics courses from the signing community colleges.
"The Math Pathways agreements represent an important step in the ongoing collaborative efforts between two and four year institutions of higher education to enhance student success by further streamlining the transfer into bachelor degree programs through the identification of specific mathematics courses to be taken at two year colleges with the assurance that such courses will satisfy the general education/core curriculum requirements and also apply directly to baccalaureate degree programs in specific majors offered by Texas A&M University-Commerce," said Provost and Vice President of Academic Affairs Adolfo Benavides, PhD.
The process to begin preparing for the MOU began in spring 2013 when Professor and Department of Mathematics Head Dr. Tingxiu Wang, Director of Developmental Mathematics and the Math Skills Center and Lecturer Dr. Pam Webster and Mathematics Instructor Mrs. Lymeda Singleton attended a New Mathways Project workshop. The Department of Mathematics then began the process of creating a new course, Math 1342 Elementary Statistical Methods. In the spring of 2015, Wang collaborated with the academic department heads to explain the New Mathways Project and to share a draft of the MOU. Department heads provided Wang with feedback and suggestions in order to ensure that courses would properly prepare students for four year degrees.
"The success of signing the MOU with fourteen community colleges is a great team effort," said Wang. "We will continue working with community colleges to build Math Pathways and welcome more students from community colleges to transfer to A&M-Commerce."
Inaugural partners with A&M-Commerce include Paris Junior College and Trinity Valley Community College. The new signing took place on Feb. 19 at the Universities Center at Dallas.