Meet Laurin Kolb, A College of Business Graduate scholarship recipient.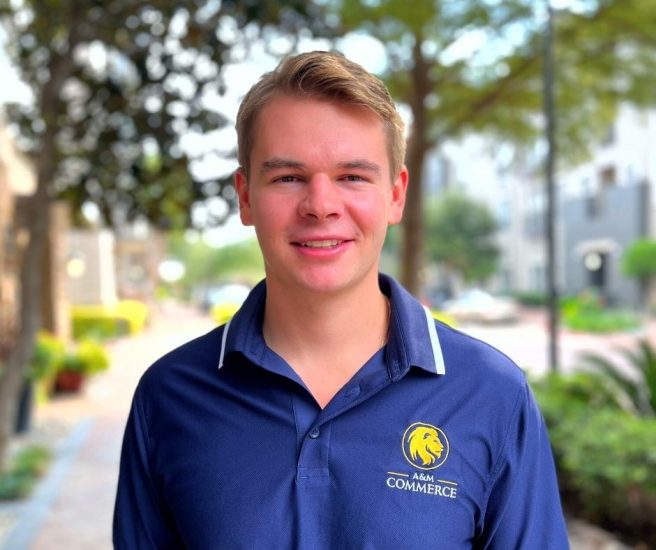 Starting in the fall semester of each academic year, The College of Business at Texas A&M University-Commerce awards several scholarships to assist incoming graduate students. This year, the College of Business also awarded scholarships to eight international students from across the globe that have demonstrated academic excellence as well as leadership and service in their communities. One of this year's recipients is Laurin Kolb, an international student from Frankfurt, Germany pursuing a Master's degree in Business Administration (MBA). 
Upon receiving his scholarship, Laurin said "With acceptance into the Business school, I was very grateful to have received a scholarship from the university. This scholarship has enabled me to continue my education in the United States, not only enabling me to pursue my academic goals but also to improve my language skills as well". He continued, "I am so grateful to the university and the College of Business for the scholarship and the significant financial support that it provides. Because of such a scholarship fund, I am now able to continue to receive a higher education degree which I know will have a tremendous impact on my life." Laurin expressed his excitement saying that "I recommend every student to apply for a scholarship at A&M-Commerce. Available online and an easy process, it only takes a few minutes to apply and transform your future." 
It is worth mentioning that the University and the College of Business annually award over $10 million in scholarships. These scholarships are awarded based on academic achievement, extracurricular activities, volunteer services, employment, and financial need. The scholarships are part of the university's mission to transform lives providing everyone, regardless of their backgrounds, the opportunity to be able to pursue their undergraduate or graduate education. They are designed to ensure that the selected recipients give back to their community through the sharing of knowledge and wealth of experiences gained at the university.