No. 11 Lion Women's Golf Wins the Ranger Invitational by 30 Strokes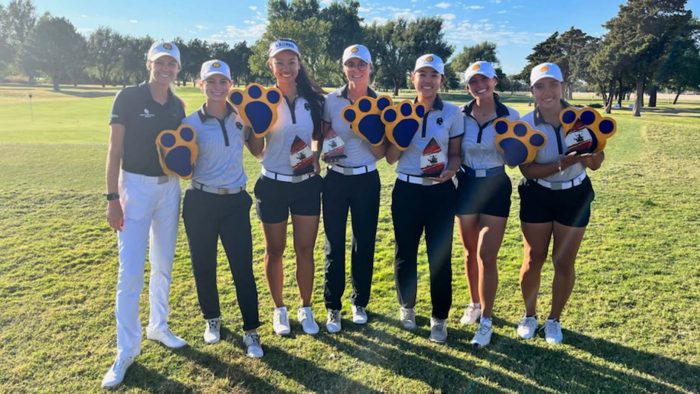 ENID, Okla. – All six members of the Texas A&M University-Commerce women's golf team finished in the top-eight at the Ranger Invitational, including five of the top-six. The Lions won the six-team tournament hosted at the Meadowlake Golf Course this week by 30 strokes.

The Lions compiled a team score of 615 in the 36-hole tournament. The runner-up, Arkansas-Monticello carded a team score of 645. This is second consecutive tournament win for the Lions, who won the West Texas A&M Fall Invitational two weeks ago.
"I'm so happy for the team to go back to back the last two tournaments," said coach Lise Malherbe. "Really proud of the work they have been putting in."
"We have great team energy going into Orlando this weekend where there will be some tough competition. Excited to go head to head with some of the best teams in the country."

Sarah Wongsinth (Udon Thani, Thailand) won the individual title with a score of 151 (73-78), edging out teammate Michelle Becker (San Antonio – Reagan) by one stroke. Becker shot a 76 on both days. Sophie-Charlott Hempel (Pirmasens, Germany) improved her score by four strokes, shooting a 75 on Tuesday to finish third with a combined score of 154.

Benz Far-Arun (Bangkok, Thailand) shaved six strokes off her card with a 77 on Tuesday to finish sixth with a score of 160. Julianna Crow (Odessa – Trinity School of Midland) finished in a tie for eighth place with a score of 164 (81-83).

Playing in her first tournament of the fall, Karlee Nichols (San Antonio – Smithson Valley) competed as an individual this week. Nichols finished in a tie for fourth place with a score of 157, improving her score by five strokes on Tuesday.