Nursing Professors Recognized at Sigma 30th Anniversary Celebration and Award Ceremony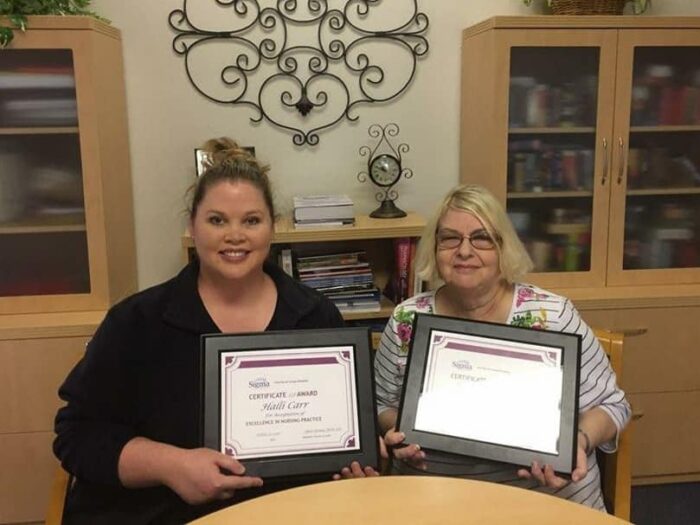 Iota Nu, at-Large chapter of Sigma, held their 30th anniversary celebration and awards ceremony on April 10 at the UT-Tyler campus.  At the ceremony, Dr. Carole McKenzie, nursing department associate professor, received the "Excellence in Nursing Education" award. Dr. Halli Carr, nursing department instructor, received the "Excellence in Nursing Practice" award.
Dr. McKenzie has over 40 years of clinical nursing experience and over 30 years of teaching, administration, and research experience. She received her Ph.D. in Allied Health Teacher Education and Administrative Leadership from Texas A&M University-College Station with a certificate in Health Care Administration from Baylor College of Medicine in Houston. She received her Master's degree in Maternal Newborn Nursing with a Certificate in Nurse-Midwifery from Yale University.
Professor Carr is a native of East Texas and graduate of A&M-Commerce. She attended Vanderbilt University in Nashville, TN where she received a Bachelor of the Arts in Spanish and English in 2004. Professor Carr became a Registered Nurse in 2005. She received her Master of Science in Nursing from Vanderbilt University in 2007 with an emphasis in Adult Acute Care. Her past work experience includes teaching undergraduate nursing students at Belmont University, trauma and surgical critical care, critical care medicine, emergency medicine, and internal medicine.
"I have found Sigma to be the most significant nursing organization of my career and I was honored and surprised to receive the award," said Dr. McKenzie.
"I am both humbled and grateful to be recognized for this award. Nursing is, and always has been, my passion. Caring for patients is a privilege and a joy," remarked Dr. Carr.
Sigma is the international honor society of nursing, with over 135,000 active members in over 500 chapters in 90 countries around the world. The Iota Nu at-Large chapter includes A&M-Commerce, UT-Tyler, and East Texas Baptist University.