Omega Psi Phi Remembers Mr. Moore and Dr. T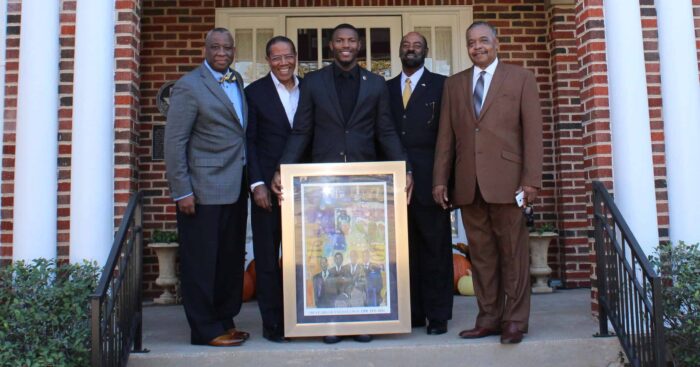 Five alumni and members of Omega Psi Phi fraternity visited the newly restored Heritage House and presented the President and Mrs. Keck with a framed commemorative poster celebrating the hundredth anniversary of the founding of their fraternity.
They also gifted the Kecks framed portraits of two men who made significant and lasting contributions to the university and to the city. One was a painting of Ivory Moore, the first African American to serve as a city of Commerce mayor and as an administrator at our university. The other depicted Dr. David Arlington Talbot, better known to his students as Dr. T—first African American male professor and first black professor emeritus of East Texas State University.
Ivory Edward Moore taught at Paris Junior College and in Colbert and Atoka, Oklahoma, in the '50s and later became the first African American principal and coach at Wichita Falls high school. Then in 1978, he accepted a position as Dean of Minority Affairs at East Texas State University.
Originally from Oklahoma, Moore earned an athletic scholarship to Langston University, where he led both the football and the basketball teams as team captain—later becoming a member of Langston's Athletics Hall of Fame.
In 1973, he wrote a successful $300,000 grant funding tutorial and counseling work with disadvantaged students and, two years later, a subsequent grant that provided funding for the Upward Bound Program. He is credited with bringing the TRIO program to the university and providing educational opportunities for those who might not have had access to higher education beforehand, such as first-generation and minority students. (The 1964 experimental program known as Upward Bound, along with the 1965 Higher Education Act's creation of Talent Search and Special Services for Disadvantaged Students, which launched in 1968 and later became known as Student Support Services, made up the basis of the TRIO program at that time.)
As the first African American elected to the City Council of Commerce, Moore ended 18 years of council service only to serve another two years as the city's first black mayor. Commerce's Ivory Moore Park is named in his honor.
Dr. David Arlington Talbot's journey began in Guyana, South America, where he attended Queens College; he later completed his bachelor's from Morris Brown College, a master's from Columbia University in 1942 and an EdD from the University of Arkansas in 1966. In 1972, he received an honorary degree, Doctor of Humane Letters, from Morris Brown College, having also taught there upon the completion of his undergraduate program.
When called for active duty in 1942, he became an interpreter in the Third U.S. Army, served under General George Patton and was awarded the Bronze Star for meritorious service. He returned to complete his graduate degree, and afterward became a social worker for the New York Department of Social Welfare.
Talbot would later teach at Shorter College in Arkansas before enrolling in the University of Arkansas at Fayetteville. When Shorter College celebrated its 100-year anniversary, Talbot was named its "Centennial Professor."
While completing his doctoral work, Talbot also joined the faculty at Pine Bluff, teaching English, before accepting the ETSU faculty position in 1968. Here, he would become special assistant to the president for affirmative action, as well as a professor of counseling and guidance and finally the director of the university Counseling Center.
Talbot was well known for meeting segregationist views with humor, and whether fact or fiction the following account was always well received in its delivery. The background for this exchange was Dr. Talbot's move into Commerce's best white neighborhood.
One day as he was reluctantly mowing the grass of his spacious front lawn, a black Cadillac stopped and a white woman driver lowered her window.
"Boy," she called, "come here."
"Yes, ma'am," Dr. Talbot said.
"How much do you get for mowing a big lawn like this?"
"Well, ma'am," he said, "I get no money, but the lady of the house lets me sleep with her."
It's been said that "the ability to laugh was a big part of the successful integration of ETSU and its environment," and Dr. T was a master of both humor and of being a good neighbor.
Hands down, Talbot and Moore were known for their lasting contributions to the university and to the greater Commerce community.
Visitors to Heritage House, gifting the Moore and Talbot portraits, were Ernest Taylor, Dr. Curtis Hill, D.S. Bufford, Russ Cuffee and Jim Talbot.