One Big Lion Family: Four Relatives Attend TAMUC at the Same Time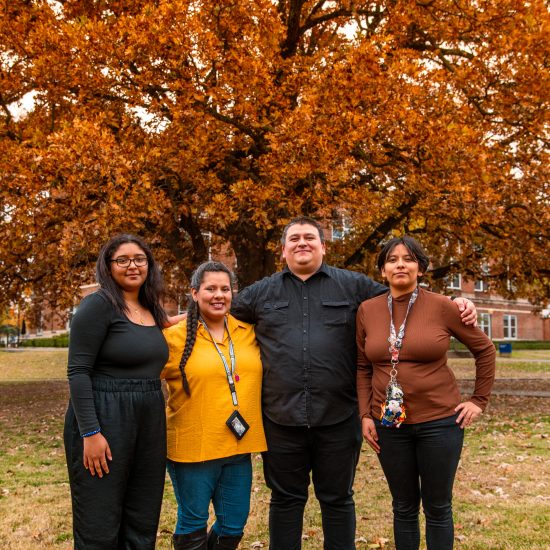 Texas A&M University-Commerce prides itself on creating an atmosphere where Lions feel like family. Currently, a quartet of university students share the Lion family dynamic more literally than most.
Husband Jacob Cuevas, wife Hermila Cuevas, daughter Angelica Cuevas and niece Angelina Boykins are all A&M-Commerce students at the same time and at different stages in their academic journeys.
These four are not the first Lions in their family. Hermila's sister, Angelita Martinez, was the first in the family to graduate from A&M-Commerce with a bachelor's degree in horticulture in 2015 before also earning her master's degree in 2017. Her achievements helped inspire both Hermila and Jacob to pursue college degrees, even as non-traditional students with children of their own.
Jacob took the plunge into higher education first, enrolling at A&M-Commerce in 2017. He received a bachelor's degree in criminal justice in 2020 and immediately began working on his master's in sociology as well. He says he decided to attend A&M-Commerce after a chance meeting with former university president Ray Keck.
"I was attending Remington College at the time, and Dr. Keck visited our campus one day," Jacob said. "He spoke about the partnership between A&M-Commerce and the college, which allowed me to transfer all my credits seamlessly and finish my degree in Commerce. That partnership, along with previous family experiences at A&M-Commerce, helped me make my decision."
Jacob's wife, Hermila, was next to attend. She is currently a senior working toward her bachelor's degree in studio art. In fact, her artwork is currently on display on the Commerce campus. She recently finished an impressive mural located in the Office of Latinx Engagement and Outreach in the Rayburn Student Center.
"We heard so many great things about A&M-Commerce from family and others that it seemed like the right place for us," Hermila said. "After being here for several years, we can definitely say that it feels like home."
Jacob and Hermila plan to graduate together in Spring 2023.
The couple's niece, Angelina, is currently a junior at A&M-Commerce with a lot on her plate academically. She is double majoring in marketing and accounting with a minor in international business. She also plans to add another minor in finance. While she attends most of her classes online, she says that having her family here with her makes a big difference.
"I've been a mostly online student so far, but I am beginning to take more in-person courses," Angelina said. "It's nice to have so many family members here. It is definitely comforting to know they go to school here because it makes it easier; we can share our experiences together."
The Cuevas' daughter, Angelica, is the youngest of the group. She just started as a freshman in Fall 2022 and is majoring in sociology. She said that, in the beginning, it was stressful, but she is settling in at A&M-Commerce.
"It was a bit scary at first, especially since it's such a big difference from what I am used to," Angelica said. "But my professors are great, and my family has been a huge help, too."
Jacob and Hermila also have another daughter in high school who plans to join the family at A&M-Commerce after she graduates. The family have become Lions for life, and they hope others also see the value of attending A&M-Commerce.
"Ever since I began attending, I have been a part of a very diverse, inclusive and welcoming environment," Jacob said. "I highly recommend A&M-Commerce to anyone considering earning a degree. It's life-changing."
Hermila added: "No matter who you are, there is a place for you here. At A&M-Commerce, we really are one big family."

(Pictured from left; Angelina Boykins, Hermila Cuevas, Jacob Cuevas and Angelica Cuevas.)