Physics Students Represent A&M-Commerce at 2020 Dallas ISD STEM Expo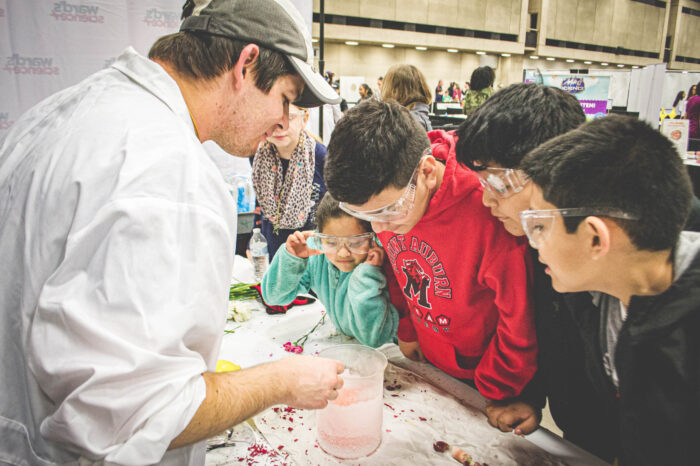 Six members of the Society of Physics Students (SPS) represented Texas A&M University-Commerce at the 2020 Dallas ISD Science, Technology, Engineering and Mathematics (STEM) Expo in Dallas on January 18.
A&M-Commerce participants included Shandi Groezinger, Cristo Sanchez, Allan Teer, Macon Magno, Ian Jimenez and Flint Morgan. The group hosted about 1,600 visitors at their interactive display.
The annual STEM Expo encourages school-age children to engage with science, technology, engineering and math as they explore thousands of interactive exhibits. The event is the largest event of its kind in Texas—about 1,900 organizations participated this year.
At their booth, A&M-Commerce students featured several interactive physics demonstrations that taught the principles of mechanics, waves and acoustics, electricity, and magnetism. Expo attendees hit tuning forks with mallets to create a variety of pitches, spun around on the angular momentum wheel and watched a resonance plate vibrate at different frequencies to make patterns in the sand.
According to Dr. Bahar Modir, SPS faculty advisor, the SPS group made a positive impression on Dallas ISD students, piquing their interest in the field of physics as well as the university.
"Students, parents and teachers visited our booth and talked to the SPS students to discuss what it means to be a physics major, a STEM major and, more broadly, an A&M-Commerce student," Modir said.
The STEM Expo also provided valuable teaching opportunities for SPS members as they connected with Dallas ISD students over fascinating physics lessons.
"Our SPS students asked the kids a lot of questions to trigger their curiosity about the physics behind the demos and rewarded them with little prizes," Modir said.
SPS member and graduate student Shandi Groezinger added, "Everyone had fun while learning about the physics behind each demonstration. Even though we were told multiple times by kids that what we did was 'magic,' they left dazzled by the science from our SPS students!"
Community events, like the Dallas ISD STEM Expo, allow SPS members to meet new people and establish professional relationships. SPS member Cristo Sanchez said, "Events such as these are able to open up many new opportunities for future SPS outreach activities."
For more information about the Dallas ISD STEM Expo, visit https://www.dallasisd.org/stemexpo.