QEP's Global Scholars Receive Awards at Global Awards Banquet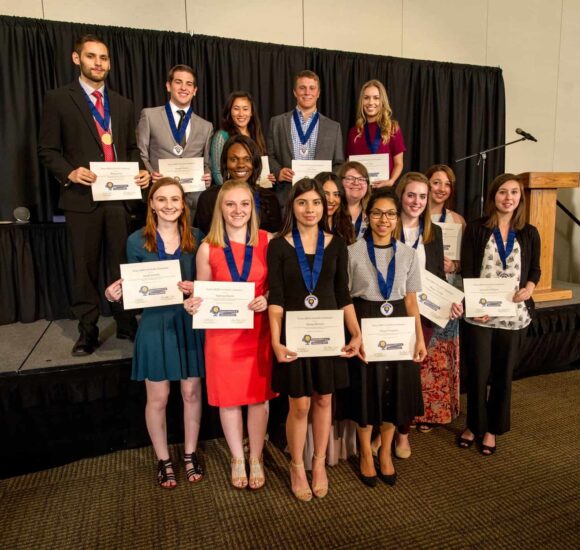 The Quality Enhancement Plan's (QEP) first set of 26 Global Scholars since inception received awards and recognition on March 28, 2017, at the Global Awards Banquet & Recognition Ceremony hosted by the office of Global Programs. The QEP team awarded recipients of the Global Scholar status, having demonstrated their preparedness in engaging in a highly interconnected world, with medallions and certificates. The team proudly announces Abigail Pioquinto, Chloe McCombs, Cindy Mays, Daria Smetana, Elizabeth Wilburn, Emma Neuweiler, Hagen Clevenger, Jacqueline Tovar, Jordan Parchesky, Joseph Doke, Joseph Fischer, Kalle Riner, Karina Moreno, Khie Johnson, Kinsleigh Sawatsky, Megan Nordin, Michael Faz, Rebecca Bishop, Rebecca Kirchoff, Sabrin Harris, Sarah Gerrels, Shannah Spurr, Sujey Loera, Tristan Nelson, Tyler Raine and Tyrae Jones as having earned the Global Scholar status and hereby congratulates each one.
The initiative behind the ceremony is to recognize and award students, faculty and staff members who have distinguished themselves academically and culturally in their service/contributions to globalization, international research, study abroad programs, academic achievement and support of the university's international mission. Award categories and awardees are as follows:
Student Awards
Gwinwon Nam (U) and Natalia Assis (G), Undergraduate & Graduate Achievement Award
Charlotte I Holland (U), Braden Dotson (U), Alma Hernandez (G) and Nick Sprenger (G), Undergraduate & Graduate Study Abroad Award
Janessa Beach, Graduate Student Global Research Award
Faculty Awards
Quynh Dang, Humanitarian Service Award
Rebecca Judd, Sojourner Award for Sustained Excellence
Yvonne Villanueva-Russell, Faculty-led Study Abroad Program Superior Achievement Award
Rebecca Dibbs, Maria Fernandez-Lamarque & Alma Mintu-Wimsatt, Faculty International Research Award
Brian Brumley, The Unsung Hero Award
Rosa Oh, Global Citizenship Award
Want to know how you can adventure abroad? Contact the Global Programs office, 220 Ferguson Hall, 903-886-5587.
Also, to find out about how to become a global scholar or learn more about Texas A&M University-Commerce QEP, please visit tamuc.edu/qep.