Richard Miller encourages students and faculty to be engaged and be engaging — yes — but, Be Interested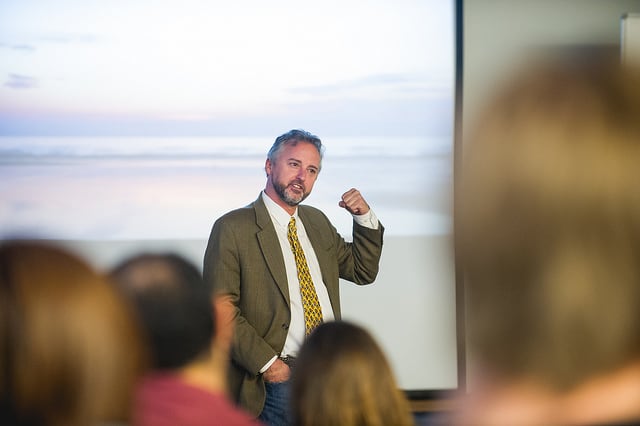 Rutgers University professor Richard Miller poses a question to his audience of literature and languages students and faculty members: "In a world of superabundant information, how do we train students to engage in this world?" By "this world," he means the physical classroom. Everyone in the room nods their heads. They understand exactly what he is talking about.
"My first assignment to my students is to be interested. I tell them I don't care what it is; just find something, anything, to research that they are actually going to care about." Miller says that students don't know how to be interested. "The scarcest resource in education is focus," Miller says after students have guessed money or talent.
Miller was invited to talk to literature and languages students as part of an ongoing series of presentations by professionals in the fields of composition, rhetoric and literacy studies. He challenges professors to adapt to students' needs by incorporating the technologies they are using most often. He also challenges scholars to buck the antiquated publishing systems in which it can take months and even years to get research into the hands of peers. After publishing two books and several articles in the traditional ways, Miller now only publishes his research online at text2cloud.com.