S.E.E.D.S. Celebrates Diversity, Inclusion of A&M-Commerce Graduates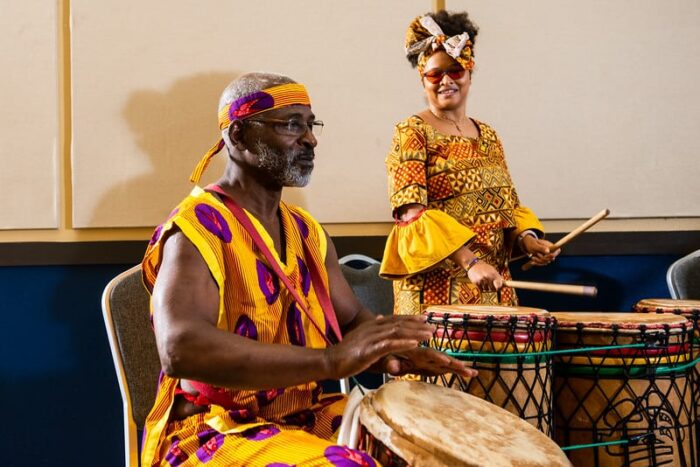 The Serving Engaged Empowered & Diverse Students (S.E.E.D.S.) office at A&M-Commerce recently honored graduates of various backgrounds via three Rites of Passage ceremonies.
The S.E.E.D.S. office is an inclusive space created intentionally for all students to know they are valued and respected, celebrating our spirit of culture and appreciation for diversity in our multifaceted campus community.
Each semester, S.E.E.D.S. highlights graduates at the Ujima, Lavender and La Raza ceremonies, which are identity-based graduation celebrations that compliment the university's commencement events. These cultural celebrations acknowledge the value and uniqueness of our underrepresented student experiences and serves to commemorate and highlight the accomplishments of individuals within their familial and cultural context.
"Lavender Ceremony celebrates our students from the LGBTQ+ community," said Danielle Davis, S.E.E.D.S. director. "La Raza celebrates our students from the LatinX community, and Ujima honors our students from the African diaspora. Each ceremony features a hooding of a stole respective to each group of students, which is a symbol and public display of accomplishment for the graduates."
With graduation rates for these groups of students being historically low, the university wants to celebrate the momentous occasion and accomplishment with a more personal experience.
Elizabet Martinez Prado was recently honored at the La Raza ceremony preceding her Fall 2018 graduation.
"A standout memory from my journey to graduation was the La Raza ceremony hosted by the S.E.E.D.S. office," Prado said. "It was a special moment when Latino students and their families celebrated together and shared their commonality. As I heard my mother cry tears of joy behind me, I knew she was proud that we had made it. "
Davis said one of the most special results of the ceremonies is the ripple effect they can have for future generations.
"I have had several first-generation graduates express their gratitude to me for allowing their nieces, nephews and their own children to experience the ceremonies, showing them that they too can achieve their dreams," Davis said.