Staff Members Recognized by A&M-Commerce President During Annual Meritorious Service Awards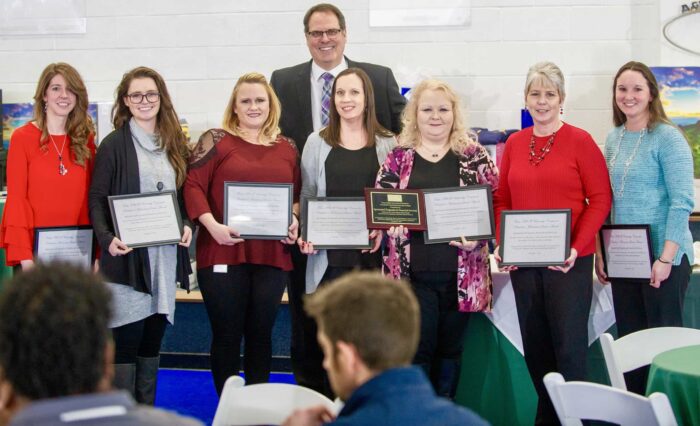 Nearly 20 staff members were recognized by Dr. Mark Rudin, president of A&M-Commerce, during the Meritorious Service Awards on January 10. The awards, which acknowledge staff members' contributions to the university, recognize both individuals and departmental teams.
One new feature of this year's event was the granting of award eligibility to employees of contract vendors. This year's individual winners were Rhenda Hines, Sodexo, Angela Martinez, University College, Dustin Pearson, Registrar's Office, Natalie Henderson, Graduate School and Priscilla Nichols, Vice President for Business and Administration Office. Winners of the individual awards received $1,000 and a commemorative plaque.
"I am grateful to those who took the time to nominate me and to those who were a part of making the final selection," Nichols said. "Being recognized in such a way means more than just the gift itself; it is truly an honor."
Also new this year was the recognition of a team manager, director or supervisor as part of the team awards. The two teams recognized were the Research Administration Team and Mane Market/Pro Card Implementation Team. The Research Administration Team included staff from Sponsored Programs – Glenda Denton, Leah Kanaman, Donna Russell and Kaylee Kinnaird and staff from Financial Services – Erin Neill, Sarah Baker and Melissa Robinson.
"I am very grateful for the award. We have worked very hard on progressing research on our campus and being recognized makes all of the hard work meaningful," Robinson said. Her fellow team member, Baker, said, "It's an honor to be chosen for the Meritorious Service Team Award and to get to work with the Research Administration staff. There are so many teams on this campus that are worthy of the award!"
The other team receiving the award, Mane Market/Pro Card Implementation Team, included staff from Purchasing – Blake Shaw, Brian McGinley, Johnene McLarry and staff from Financial Services – Heath Shaffer, Ginger Bostick, Kevin Ashmore, Tammy Bueti and Erin Neill. Each team member received $200 and a framed certificate and also had their name included on a plaque for their respective team.
Neill, who is a member of both of this year's recognized teams, said, "It is endearing to have your hard work recognized; however, I know that hard work only came to fruition because of the amazing team members I was able to work together with to accomplish these large tasks."
This year was Rudin's first time to present the awards. "The award recipients work tirelessly for our university, and I was honored to shake their hands and thank them for their exemplary service," he said.