Venture College Hosts Networking Night at Dallas Site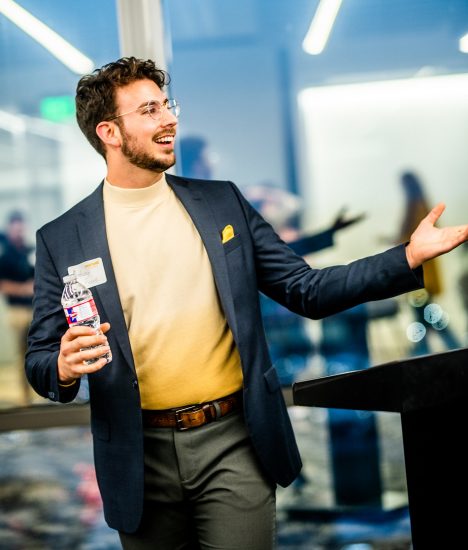 Venture College hosted its annual Networking Night on March 10 at the new A&M-Commerce at Dallas. Venture College is A&M-Commerce's entrepreneurship program wherein students learn the process of developing ideas into tangible products or businesses.
Six students participated in the recent Networking Night. Each presented a two-minute pitch of their business or product idea to an audience of more than 40 investors and industry leaders. Students also networked with business professionals who shared their knowledge and expertise throughout the evening.
Venture College coordinator Anthony Pierotti said A&M-Commerce at Dallas was the ideal venue for Networking Night.
"Our central location in the DFW area made it easy for many partners, alumni and leaders to attend the event. Beyond the ease of attendance, the location's view and design make it an inspirational space for fostering the entrepreneurial spirit," Pierotti said.
According to Pierotti, students will earn college credit for participating in Venture College starting next semester.
"Students will get academic credit, and they will be surrounded by a community of entrepreneurs," Pierotti said. "Changing something as insubstantial as an idea into a real product or business is a valuable learning experience."