Svaerd's All-Time Run Continues as Lion Men Finish Second and Women Place Third at LSC Indoor Championships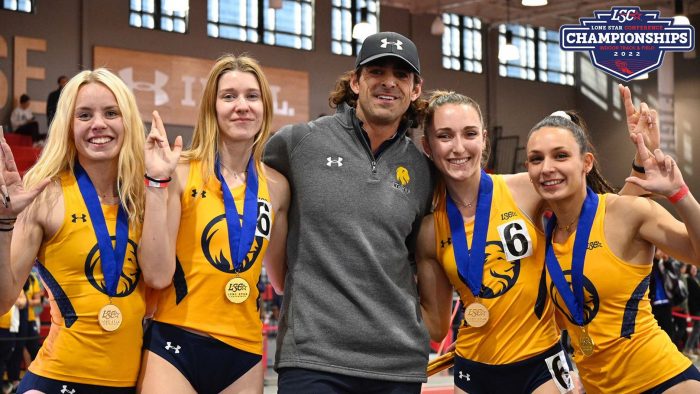 LUBBOCK – Another record-setting day for the Texas A&M University-Commerce track and field teams at the Lone Star Conference Indoor Track and Field Championships secured top three finishes for both teams on Saturday at the Sports Performance Center.

The Lion men finished the meet with 120 points, trailing West Texas A&M's 206, who won the LSC title for the second year in a row. The Lion women needed a strong finish in the final event of the meet to secure third place and did so by winning the 4×400 meter relay to accumulate 76.33 points. The Lady Buffs won the LSC women's title for the seventh year in a row with 215.5 points.

2022 LSC INDOOR TRACK AND FIELD CHAMPIONSHIPS STANDINGS – MEN
| | | |
| --- | --- | --- |
| Pos. | Team | Total Points |
| 1 | West Texas A&M | 206 |
| 2 | A&M-Commerce | 120 |
| 3 | Angelo State | 85 |
| 4 | A&M-Kingsville | 81 |
| 5 | Oklahoma Christian | 54 |
| 6 | UT-Tyler | 45 |
| 7 | Dallas Baptist | 37 |
| 8 | Lubbock Christian | 21 |
| 9 | Eastern New Mexico | 7 |
| 10 | Cameron | 5 |
2022 LSC INDOOR TRACK AND FIELD CHAMPIONSHIPS STANDINGS – WOMEN
| | | |
| --- | --- | --- |
| Pos. | Team | Total Points |
| 1 | West Texas A&M | 215.5 |
| 2 | Angelo State | 115.5 |
| 3 | A&M-Commerce | 76.33 |
| 4 | Dallas Baptist | 71.33 |
| 5 | UT-Tyler | 47 |
| 6 | Eastern New Mexico | 37 |
| 7 | A&M-Kingsville | 33 |
| 8 | Oklahoma Christian | 23 |
| 9 | Midwestern St. | 20.33 |
| 10 | Lubbock Christian | 19 |
| 11 | Cameron | 5 |
On Saturday, eight individuals and both relay teams for the Lions reached the podium. The day started with a gold medal for Travyeon Franklin (Montgomery) in the triple jump, followed by a silver medal from Maia Maury (Noisy-Le-Grand, France) in the high jump, and Jordan Johnson (Guateng, South Africa) secured a bronze medal in the 60 meter hurdles.

Minna Svaerd (Karlstad, Sweden) set one all-time LSC mark on Friday in the pole vault and was part of two more on Saturday. Her time of 54.30 seconds in the 400 meter dash secured a gold medal and is the new conference record. Teammate, Mariana Shostak (Lviv, Ukraine) finished second in the 400 meter dash with a time of 54.62 seconds. Their times are 1-2 nationally. Svaerd and Shostak teamed up with Sofia Khenfar (Lyon, France) and Francesco Aquillino (Milan, Italy) to set the all-time LSC mark in the 4×400 meter relay with a time of 3:42.89.

On the men's side, J.T. Smith (Klein Oak) sprinted 6.71 seconds in the 60 meter dash to secure the silver medal, Delan Edwin (Castries, Saint Lucia) won the bronze medal. Edwin won silver in the 200 meter dash by setting the new school and Saint Lucia national record. The day for the Lions finished with a bronze medal in the 4×400 meter relay by Edwin, Maxime Woirin (Lyon, France), Connor Stockerl (The Woodlands), and Jordan Hollis (Lancaster).

"I am really proud of the way our team competed today," said coach George Pincock. "Jordan Johnson stepped on the podium with a provisional mark in his first conference meet, Delan Edwin with two more great races, same thing for J.T. Smith."

He added, "our women in the 400 meter dash were fantastic. We had three athletes in position to secure points in the high jump and they all secured points. Minna Svaerd competed in three conference events and walked away with three all-time conference records, so extremely special performance from her."

MEN
Ryan Amador (Jonesboro, Ark.) recorded a mark of 50 feet 5.5 inches (15.38m) in the shot put to place fourth. Franklin recorded a jump of 49 feet 2.5 inches (15.00m) to win the triple jump event. Dodley Thermitus (Elizabeth, N.J.) finished in seventh place in the triple jump with a mark of 46 feet 11.75 inches (14.32m).

The Lions had three racers earn points in the one-mile race. Casey Novelo (Burleson – Trinity) finished fourth with a time of 4:21.64, Alex Speer (Robinson) timed 4:22.53 to finish sixth, and Nicholas Deutsch (Frisco) secured eighth place with a time of 4:23.90.

Johnson raced to a time of 8.13 seconds to secure the bronze medal by 0.03 seconds in the 60 meter hurdles. Smith and Edwin competed in different sections of the 60 meter dash, but finished with two of the three fastest times. Smith timed 6.71 seconds and Edwin timed 6.73.

Two more Lions finished with points in the 800 meter run. Christopher Flores (Rocksprings) timed 1:55.10 to place fourth and Timon Kemboi (Eldoret, Kenya) finished seventh with a time of 1:59.14.

The true spectacular of the meet came in the men's 200 meter dash with two top four times in Division II history being set. West Texas A&M's Benjamin Azamati set the all-time conference record and second all-time in Division II, timing 20.57. Edwin timed 20.79, which is the fourth fastest time in Division II as well as the best by any sprinter from Saint Lucia. He is the only Saint Lucian athlete to break 21 seconds and did that twice this weekend.

The Lions closed out the meet with a time of 3:13.44 in the 4×400 meter relay to win a bronze medal.

WOMEN
Maury cleared 5 feet 5.25 inches (1.66m) in the high jump as did Angelo State's Antonija Radic, who had one fewer attempt to get there, thus awarded the gold medal. Chelsea Cheek (Baytown – Lee) finished in seventh place with a mark of 5 feet 0.5 inches (1.54m) and Jessie Payne (Grapeland) placed in a tie for eighth place, clearing 4 feet 11 inches (1.50m). All three athletes that tied for eighth had the same amount of attempts, thus each receiving 0.33 points.

Iniuto Ukpong (Arlington – Mansfield) missed the podium by 0.30 meters in the shot put, her best mark of 44 feet (13.41m) was third. Julia Seigerroth (Jonkoping, Sweden) finished fifth in the 60 meter hurdles with a time of 8.79 seconds. Khenfar and Ashley Benton (Dallas – Life Waxahachie) finished in the top eight in the 60 meter dash. Khenfar's time of 7.66 seconds was fifth and Benton placed seventh with a time of 7.75 seconds.

The Lion women went 1-2 in the 400 meter dash. Svaerd set the all-time LSC record as well as recorded the fastest time in NCAA Division II this season with a time of 54.30. Shostak's time of 54.62 is second fastest in the nation this season.

DBU and A&M-Commerce were battling for third place all afternoon. The Lions needed to reach the podium in the 4×400 meter relay to clinch third place. The Lions' time of 3:42.89 was more than enough to secure a gold medal and set the new Lone Star Conference record.

UP NEXT
The Lions await the announcement of the NCAA Division II Indoor Track and Field Championships field, which will be announced on Tuesday at 5 p.m. The national championships are going to be held in Pittsburg, Kansas, on March 11-12.