TAMUC Students, Faculty and Alumni Shine at Percussion Convention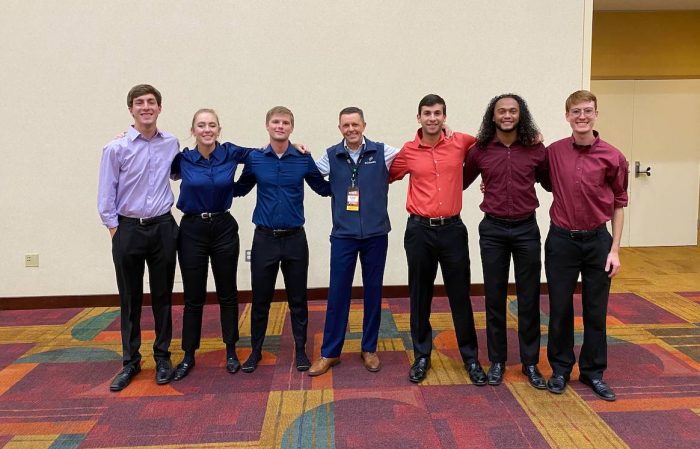 A strong contingent of students, faculty and alumni of Texas A&M University-Commerce had a stellar outing at the 2021 Percussive Arts Society International Convention (PASIC). The convention ran from November 10 through 13 in Indianapolis, Indiana. Featuring concerts, clinics, panels and presentations given by the finest artists from all over the world, PASIC 2021 showcased all areas of percussion — drum set, marching, keyboard, symphonic, world, recreational, education, music technology, new music, and health and wellness. Some highlights from PASIC include:

Student:
The A&M-Commerce Percussion Ensemble I, consisting of Genevieve Hilburn, Nestor Mercado-Garcia, Makena Mailer, Connor Trant, Jesse Vela, and Adam Whoolery, tied for third place in the College Small Chamber Ensemble Competition.
Makena Mailer earned 3rd place in the College Keyboard Competition.
Faculty:
Dr. Brian Zator led the PAS Leadership Academy Meeting
Sandi Rennick and Lauren Teel performed as part of the International Marimba Orchestra
Alumni:
Dr. Andrew Lynge, Director of Percussion at the University of Alabama, led his percussion ensemble to a win in the International Percussion Ensemble Competition and was able to conduct this group on their PASIC Showcase Concert.
Alum Colin Crouch is a Graduate Student at the University of Alabama and on their PASIC Showcase Concert.
The University of Alabama Percussion Ensemble performed the World Premiere of a new work, "Her Eyes", composed by alum Samuel Peruzzolo-Vieria.
Kaylie Hardeman was a featured guest performer on Matt Penland's clinic.
(Pictured in photo, from left: Adam Whoolery, Genevieve Hilburn, Connor Trant, Dr. Brian Zator, Jesse Vela, Nestor Mercado-Garcia and Makena Mailer.)