TAMUC Students Finish Strong at Pathways Research Symposium
A group of 26 A&M-Commerce students presented research at the 17th annual Texas A&M University System (TAMUS) Pathways Student Research Symposium held March 3-4 in College Station, with five students earning top marks at the event.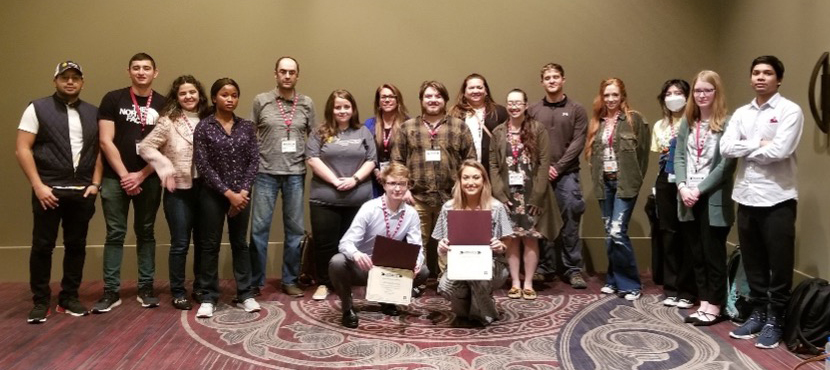 The symposium is a student research showcase open to undergraduate and graduate students from all TAMUS institutions. The event is an opportunity for system students to present their research to—and network with—faculty members, judges and other students from across the system. Separate categories are available for undergraduate-, master's- and doctoral-level posters or oral presentations.
A&M-Commerce award winners included:
Diksha Shakya, 2nd place, Undergraduate Life Sciences Poster Presentation
CAV-1Rho pathway mediates G1P3-induced Breast Cancer cell migration
Vida Robertson, 2nd place, Undergraduate Mathematics and Physical Sciences Poster Presentation
Substituent Effect Analysis of the Synthesis of 1-Azabicyclo[2.2.1]heptan-2-one Using Diels-Alder Reactions.
Michael Brdeka, 3rd place, Undergraduate Mathematics and Physical Sciences Poster Presentation
Hydrothermal Liquefaction of Chlorella and Reeds to Bio-oils and other Value-added products.
Chiho Kim, 1st place, Undergraduate Business and Information Technology Poster Presentation
Zero-day Malware Detection using Threshold-free Autoencoding Architecture.
Hailey Burt, 1st place, Master's Mathematics and Physical Sciences Poster Presentation
Promoted Palladium Catalysts for Liquid-Phase Selective Hydrogenation of Alkynes.
View the full list of winners.