Ticket Punched! Lion Women's Golf finishes fourth at West Regionals, earns trip to Nationals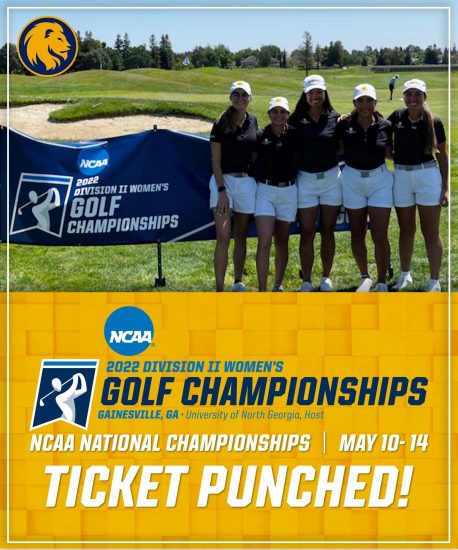 STOCKTON, Calif. – The Texas A&M University-Commerce women's golf team is headed to the NCAA Division II National Championships for the second year in a row after finishing fourth at the NCAA West Regional Championships on Wednesday at the Brookside Country Club.
 
The Lions started the day in fourth place and remained in fourth place throughout the day. Arkansas-Fort Smith and Cal State San Marcos, who finished sixth and seventh, respectively, pulled to within two strokes of the Lions, but they were not able to chase the Lions.
 
The top five teams at the NCAA West Regionals: DBU, Colorado Christian, Texas A&M International, A&M-Commerce, and West Texas A&M, have punched their tickets for NCAA Division II Championships in Gainesville, Georgia, at the Chattahoochee Golf Club from May 10-14. The Lions advanced to the NCAA National Championships last season as well and finished ninth at the tournament in the program's first trip to Nationals.
On Wednesday, Sophie-Charlott Hempel (Pirmasens, Germany) carded a round of 71 to finish the tournament tied for eighth place with a score of 215 (73-71-71). Inma Ortiz Prieto (Huelva, Spain) tied for 15th place with a score of 219 (72-72-75) and Sarah Wongsinth (Udon Thani, Thailand) shot three strokes better on Wednesday, finishing the tournament tied for 25th place with a score of 224 (73-77-74).

Karlee Nichols (San Antonio – Smithson Valley) shot six strokes better on Wednesday and tied her season low of 72 to climb 10 spots on the leaderboard. She tied for 29th place with a score of 226 (76-78-72). Michelle Becker (San Antonio – Reagan) tied for 42nd place with a score of 230 (75-77-78).

DBU won the West Regional Championship by shooting an 864 (294-288-282) over the three rounds. Colorado Christian's Faith Kilgore is the individual champion, shooting a 207 (68-69-70). The top two individuals that advance to the National Championships are Drishti Karumbaya from Cal State East Bay and Anahi Servin from Academy of Art.
| | | | | | |
| --- | --- | --- | --- | --- | --- |
| Pos | Team | Round 1 | Round 2 | Round 3 | Total |
| 1 | DBU | 294 | 288 | 282 | 864 |
| 2 | Colorado Christian | 296 | 288 | 289 | 873 |
| 3 | Texas A&M International | 289 | 291 | 295 | 875 |
| 4 | A&M–COMMERCE | 293 | 297 | 292 | 882 |
| 5 | West Texas A&M | 295 | 297 | 291 | 883 |
| 6 | Arkansas-Fort Smith | 304 | 296 | 287 | 887 |
| 7 | Cal State San Marcos | 300 | 305 | 283 | 888 |
| 8 | Cal State East Bay | 300 | 298 | 291 | 889 |
| 9 | Biola | 303 | 312 | 288 | 903 |
| 10 | Cal State Monterey Bay | 305 | 302 | 307 | 914 |
| 11 | St. Mary's | 317 | 306 | 295 | 918 |
| 12 | Western Washington | 304 | 312 | 308 | 924 |