Topping Out Beam Placed on Nursing and Health Sciences Building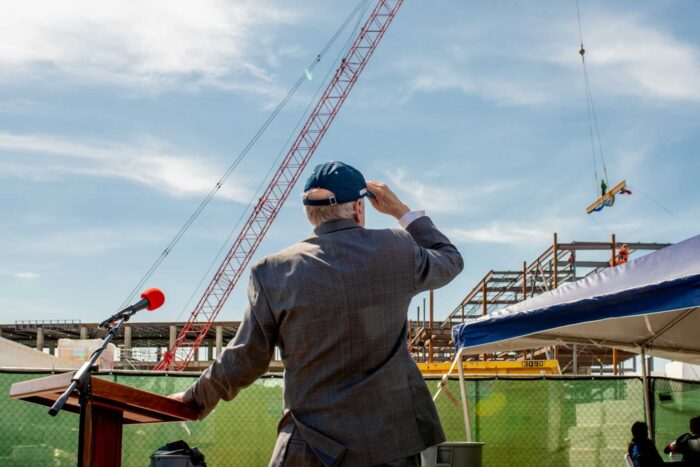 On April 12, the university held a topping out ceremony for the new Nursing and Health Sciences building, celebrating the placement of the structure's final beam before moving to the next phase of construction.
Topping out (or topping off) ceremonies have a long history in Western tradition and go all the way back to ancient times when a tree or branch was affixed to the top of a building as a sign of reverence to nature. Now, the ceremony marks the success of the completion of the initial phase of the project. Evergreens are often still included, and the beam is usually signed.
In fact, members of the university community were invited to add their signatures to the beam in the days leading up the ceremony. Groups of students, faculty, and staff visited the construction site during the day to leave their mark on the university's newest structure.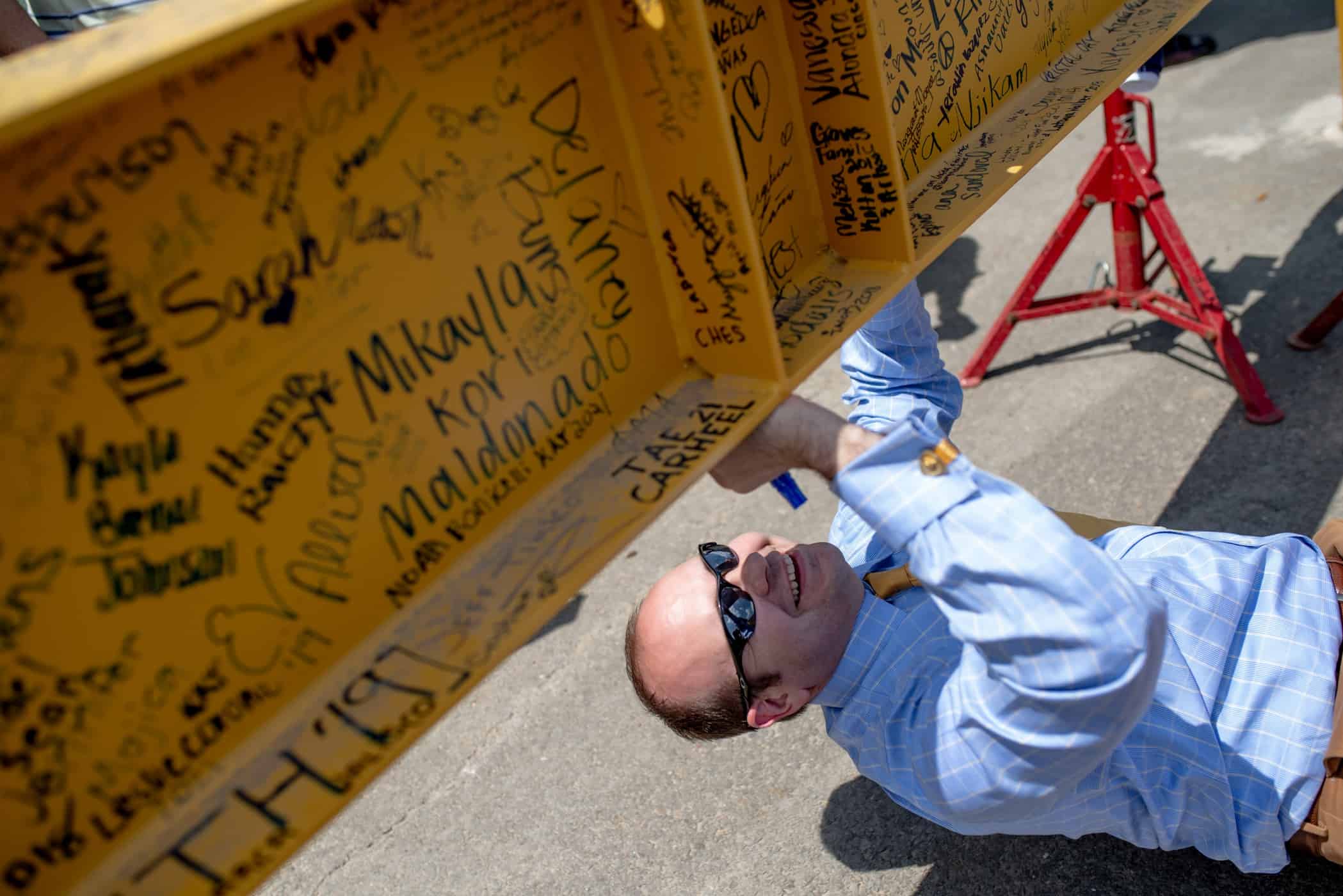 During the ceremony, many gathered to watch the beam go up despite strong winds.
Jose Olivares sang the Alma Mater, and President Keck, Texas State Representative Dan Flynn, and others spoke to the crowd. "This is your building," said Dr. Keck, reminding the crowd that the building was primarily funded by the state of Texas. "Today's a day to be grateful…that we live in a nation that cares about the future, that cares about young people, and invents in the future and in their future."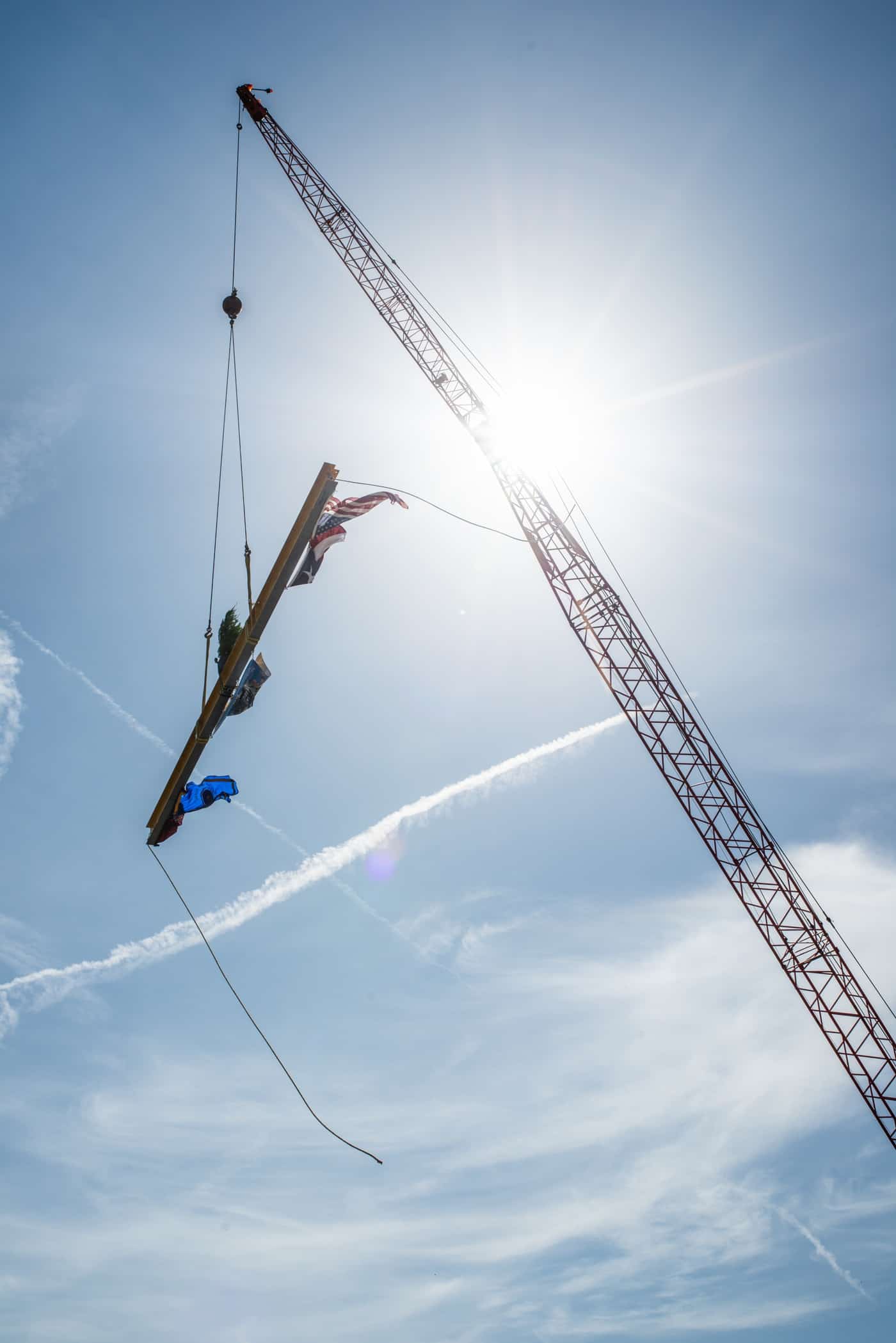 "We knew this building needed to be [built] not just for Commerce, but for Texas, and for the united States," declared Representative Flynn. "We have a shortage of nurses in Texas and we're going to help fulfill that."
Finally, the beam was raised up, adorned with flags representing A&M-Commerce, the Texas A&M University System, the state of Texas, and the United States, as well as a small evergreen tree. As the beam was placed atop the structure, the crowd waved the lucky Lion hand sign.
The Nursing and Health Sciences building is set to open in 2019. The facility will house the Department of Nursing, the Department of Health and Human Performance, and the Biomedical Institute for Regenerative Research, and will include state-of-the-art laboratories for research, equipment for practical learning, a simulation hospital, and additional classrooms.