University Symposium Featured in TTI Researcher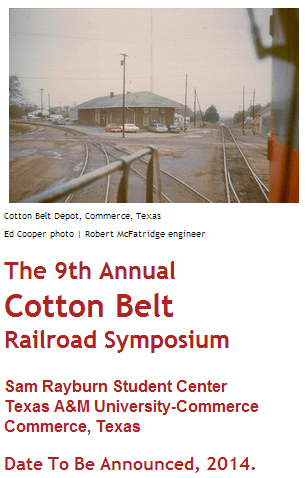 The Texas Transportation Researcher, a publication of the Texas A&M Transportation Institute (TTI), recently featured an article on the Texas Transportation Hall of Honor induction ceremony for Cotton Belt president Harold J. McKenzie. The ceremony was held at the 8th Annual Cotton Belt Railroad Symposium on the A&M-Commerce campus.
"We were honored that TTI selected us to host the official ceremony to induct Mr. McKenzie into the Hall of Honor at the symposium," said Associate Professor of Technology Management and symposium founder Jason Davis.
The Cotton Belt Railroad Symposium was first held in 2006 to document and preserve the legacy of current and former railroads and their employees in the Arkansas, Louisiana, Oklahoma and Texas regions. It was named for the St. Louis Southwestern Railway, also known as the Cotton Belt Route. It is the primary railroad that served Commerce. The meeting honoring Mr. McKenzie ran in the beginning of October and was hosted by BNSF Railway.
McKenzie served as the railway's president for 18 years before retiring to devote his life to railroad consulting and civic leadership. TTI selected A&M-Commerce to host the induction ceremony honoring McKenzie at the suggestion of BNSF Railway Vice President Rollin Bredenberg. Last year's symposium was dedicated to McKenzie's memory.
The 9th annual symposium is in the planning stages for fall 2014. It will be free and open to the public.
Information regarding this year's symposium may be found at http://www.CottonBeltRoute.com.