University Planetarium to Hold Grand Reopening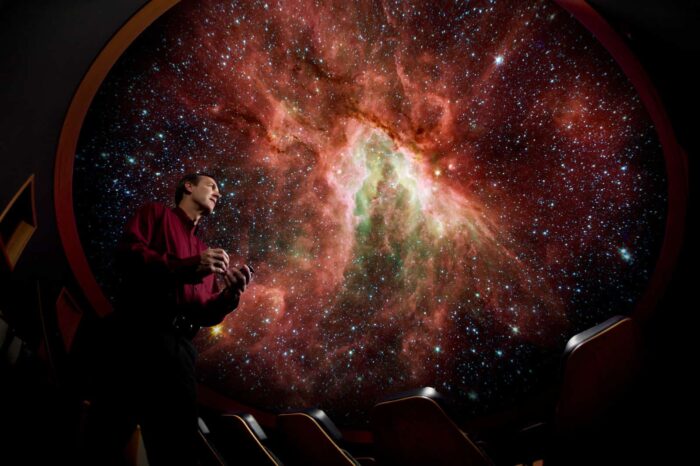 By Dr. Cheri Davis
Texas A&M University-Commerce Planetarium is pleased to announce the "Grand Reopening" premier of its newest show, Dinosaurs at Dusk. The Grand Reopening event will run from 6-9:00 p.m., Friday Jan. 31, 2014 and is free for all who participate and suitable for all ages.
The Planetarium Grand Reopening will provide an opportunity to see the new Digistar 5 system which allows robust images to be projected by high-end projectors in a hemispherical dome. Digistar 5 software has new built-in features such as high resolution planetary surfaces, expanded exoplanets, star fields and a state-of-the-art navigation system to tour the solar system and beyond.
The celebration will include presentations of Dinosaurs at Dusk at 6:00 p.m., 6:45 p.m. and 8:00 p.m. Drawings for door prizes will be held at 7:30 p.m. and prizes include an Astroscan Telescope, a SunSpotter, astronomy books, dinosaur books and games as well as various other prizes. Visitors must be present to win.
The event is free of charge and will include a dinosaur fossil dig for children and demonstrations by physics graduate students, A&M-Commerce SPS members and planetarium staff.
Dinosaurs at Dusk is the adventure of a father and his teenage daughter, Lucy, who share a fascination for all things that fly. Join us as we take to the skies and discover the origins of flight. Visitors will travel back in time to meet the first flying dinosaurs, the pterosaurs, ancestors of modern-day birds. Lucy and her father navigate from continent to continent, looking for clues about the origins of flight. When time runs out, they experience first-hand the cataclysmic "last day" of the dinosaurs.
Dinosaurs at Dusk was produced by Mirage 3D who also gave us programming such as Natural Selection, Dawn of the Space Age and Origins of Life.
"The superb quality of images and attention to detail that Mirage 3D adds to all of their productions is amazing. The viewer will feel that he or she has stepped back in time and experience the same adventures along with Lucy and her father," added Dr. Cheri Davis, assistant planetarium director.
To follow the A&M-Commerce Planetarium, follow them on Facebook.