Veteran's Vigil Opening Ceremony on November 5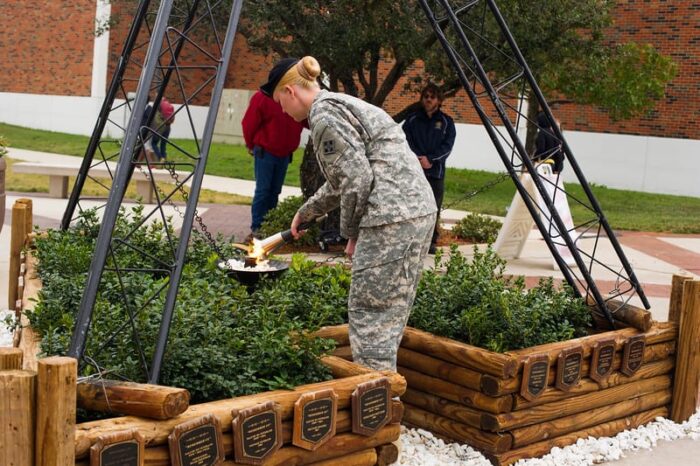 The 24th annual Veteran's Vigil will take place on November 5 and 6 at Texas A&M University-Commerce.
The opening ceremony will begin on Thursday, November 5, at 9:30 a.m. in the Rayburn Student Center (RSC) Conference Rooms with a reception, followed by the Opening Reception at 10 a.m. After the ceremony, at 11 a.m. a vigil flame will be lit and will continuously burn until extinguished on Friday, November 6 at 4:30 p.m. The Vigil site will be the walking mall in front of the RSC.
"It is such an honor to be able to host an event that recognizes veterans and their contributions," said Jessica Gossett, assistant registrar. "This year marks the 24th annual Veterans Vigil for the university and each year it brings a sense of unity and patriotism to our campus. We'd like to invite the community and student body to come pay homage to those that have sacrificed so much for this great nation."
This year's speaker is Mr. Jacques L. Fuqua, Jr., the executive director for Global Programs. Fuqua was commissioned as a second lieutenant in the Regular Army in 1979 where he trained at Fort Ben Harrison, Indiana. After completing his officer basic course, he was assigned to Fort Knox, Kentucky to the 194th Armored Brigade. Some of his follow-on assignments included Chief at Fort Knox Protocol Division, Adjutant at US Army Field Station in Okinawa, Adjutant at 4th Combat Service Support Training Brigade, Training and Doctrine Command representative to the Japan Ground Self-Defense Force Headquarters in Tokyo, and Chief at Government Relations in US Forces Japan, as well as several others. He has been awarded the Defense Meritorious Service Medal, US Army Meritorious Service Medal, Joint Commendation Medal, Army Commendation Medal, and many others during his time in the service. Fuqua retired in February 2000, and in May of that year assumed a posting as Associate Director of the East Asian Studies Center at Indiana University in Bloomington. He has been at A&M-Commerce since January 2015.
The closing ceremony will begin at 4:30 p.m. on November 6 at the Vigil site. The Vigil Flame will be extinguished, followed by a performance by the university choirs. In addition to the Vigil, veterans can get 10% off at the campus bookstore on clothing, supplies, or gifts from November 9-13. Proof of eligibility must be presented in order to receive the discount. Veterans can also eat free in the RSC Cafeteria on November 11 with a valid military ID or DD214.
The Veteran Appreciation Ball will be November 6 at 7 p.m. in the RSC Conference Rooms. The Ball is sponsored by the Student Veteran Association. Tickets should be purchased in advance by November 1.
For more information on the Veteran's Vigil or activities, or if you require ADA accommodations, contact Jessica Gossett at 903.886.5069 or [email protected], and for more information on the Veterans Appreciation Ball or to purchase tickets, call 903.468.8864.