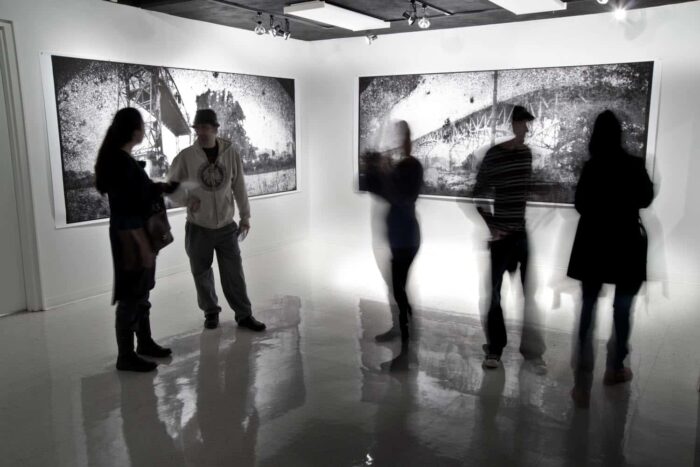 By Roberta Vassallo
Vaughn Wascovich's passion for photography started when he was 13 years old. At that time he was interested in building Second World War plastic models. One day, while walking in the mall, he ended up in the photography section of the store and discovered "those little metal objects that are beautifully built" which immediately convinced him to switch to a less "nerdy" hobby. From that moment on, he could not stop dedicating his life and career to photography, working freelance and teaching at the university level. He is currently Associate Professor of Photography in the Art department.
"As an artist and a landscape photographer interested in how man is influenced by nature and vice versa and living in this time period, I cannot make works and not consider environmental issues," said Wascovich. "I believe in the importance of building communities and I think that art can have great indirect environmental benefits for their development. I see the University as the temple of education and a space of opportunities. We are increasing programs, services, and building new dorms. However, if the future projection of the physical landscape is that of lack of water, it does not matter that the school gets strong and great programs. That is why we should get together and invest our energies and resources in environmental awareness and education."
His project Welcome to Hard Times: Photographs of East Texas started when he came to Texas for the first time across the Red River. He was so fascinated with the sense of mystery of that area that he decided to find a way to "capture" its uniqueness. His handmade pinhole camera seemed to be perfect for that purpose. Using a technique which is primitive and unsophisticated in its essence while experimental in the process, he developed his personal vision which resulted in a "post-apocalyptic" photography that tells us about a changing landscape. The images created for the project are made using hand-made, curved-back, 8×20" paper-negative pinhole cameras and mixing the traditional wet dark room technique with digital. Exposures begin at four minutes in direct sun. Once exposed, the paper negative is developed in a wet darkroom. Here, Wascovich—instead of following the traditional procedure— experimentally manipulates the paper negative in unconventional ways. Once the negative is washed and dried, it is scanned and inverted, involving adjusting contrast levels. The images are then printed at three different sizes, 10×25", 16×40"and 40×100."The idea behind Wascovich's project is to show the process of making the images themselves rather than just the final outcome. It is reminiscent of the famous art piece by the artist Robert Morris called "Box with the Sound of Its Own Making" (1961): a box containing a tape recorder with the sound of him making the box!
"Sometimes I don't mix the chemicals or I put them on the paper in the wrong order; sometimes I just sprinkle the powder on the paper itself, and I spritz water on it," said Wascovich. "I don't put the paper on a tray and instead I use a piece of glass so that I can better manipulate it."
With his work, Welcome to Hard Times: Photographs of East Texas, Wascovich participated in four exhibitions over the last few months. He is also involved in teaching the pinhole camera technique to elementary school students in small-town communities. He has already built 14 different pinhole cameras. For his next project he would like to turn the Art Department's trailer into a giant pinhole camera to let the students walk inside the trailer and learn about the technique. Looking at the large scale images it is possible to experience a sort of three-dimensional depth effect: the
closer you look at the picture, the better you see the processing marks on its surface; the further you stand back
from the image, the clearer the subject appears.
Exhibitions:
June 2012. Professor Wascovich was awarded an art commission with Bidwell Projects to photograph the bridges of Cleveland, Ohio.
May-June 2012. "Welcome to Hard Times". Solo exhibition. Rockport Center for the Arts.
July 6-August 25, 2012. "Welcome to Hard Times". Solo exhibition. Fort Worth Community Arts Center.
October 2012. "Welcome to Hard Times". Solo exhibition at Shawnee State University, in Portsmouth, Ohio.
Distinguished Lecturer and meeting with the Shawnee State students.
September 28-November 9, 2012. "A Personal Narrative". Two-person exhibition, AEC Gallery in Covington, KY, in
conjunction with Fotofocus Cincinnati.
Jenuary 11, 2013. "Welcome to Hard Times". Solo exhibition, Opening show at the Cleveland Print Room, Cleveland, Ohio.
January 22, 2013. "Bridging Cleveland" Solo Exhibition, Art Gallery at Texas A&M University-Commerce, Commerce, TX.