Lion Champions Fund :: Welcome from the Director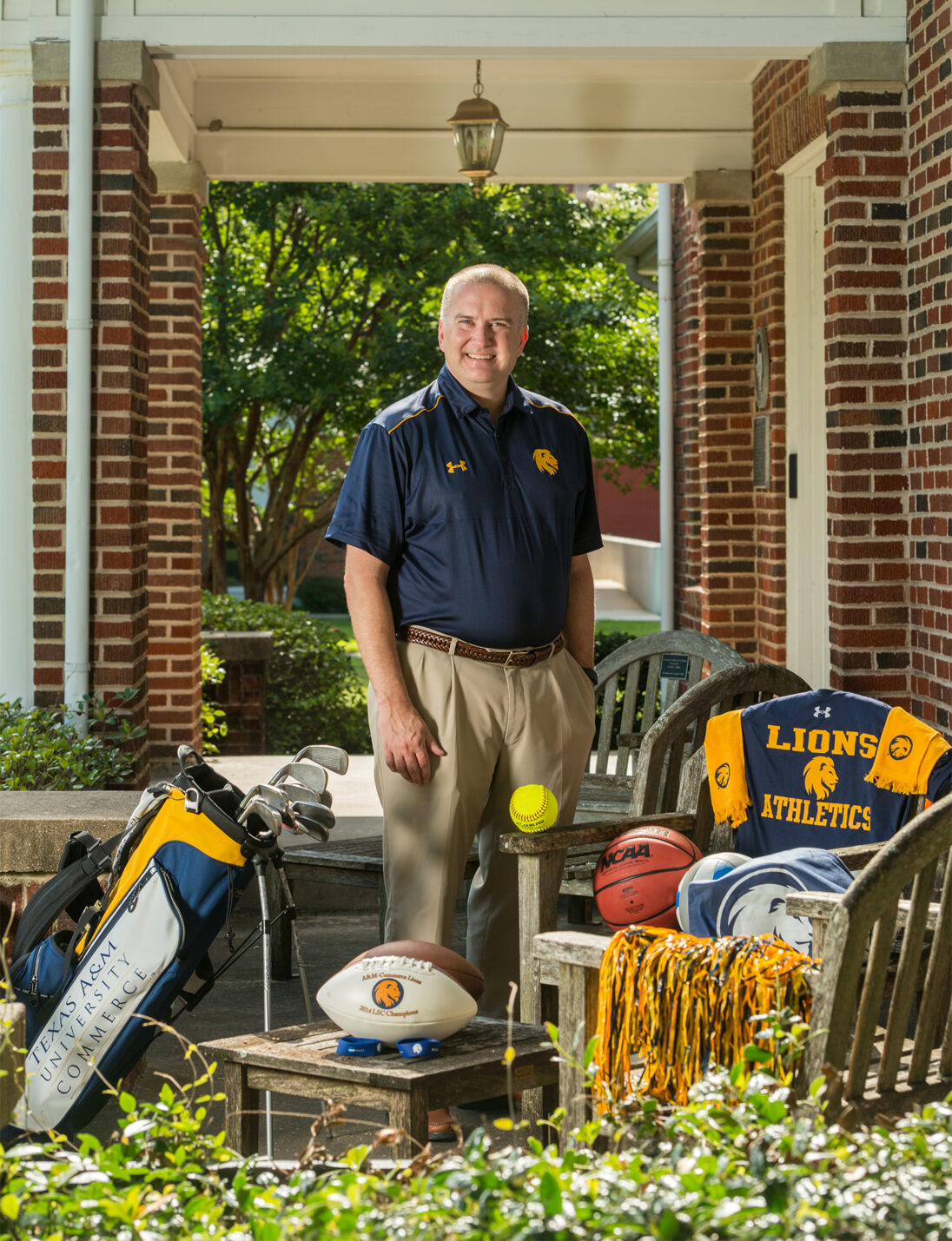 Welcome from the Director of athletics
Our relational mission to provide a Best in Class experience has not waivered or been deterred throughout the challenges that 2020 presented to our country, our institution, and our student-athletes. Our coaches and administration have remained steadfast in keeping our students through innovative leadership development, intentional team programming, and strategic connection points throughout the year.
Very directly, your support of the Lion Champions Fund is an INVESTMENT with IMPACT. Every Lion Champions Fund donation is invested directly in student-athlete success. Our Thrower Student-Athlete Success Center is not just a study hall, academic advising center, or tutoring spot. The Center – a model within intercollegiate athletics – focuses on developing the total person with academic support, career support, the Responsible Lions Program, the Student-Athlete Advisory Council, and the Lion Leadership Academy for our entire student-athlete population.
Without LCF donations, our opportunities to keep the Thrower Center at a Best in Class level would not be possible. Additionally, our F.A.S.T.E.R. student-athlete nutrition program would not be a reality, as well as expanded recruiting and facility upgrades.
We truly appreciate the philanthropic investment that all LCF donors make and the consideration of student-athlete support from new prospective donors. If you believe in our Best in Class mission and student-athlete impact, please consider a gift to the Lion Champions Fund today.
Tim McMurray
Director of Athletics
Back to menu
Lion Champions Fund :: COMMUNITY SUCCESS AND STUDENT-ATHLETE LEADERSHIP
Community Success and Student-Athlete Leadership
NBA All-Star Game
For the third time in two years, the Lion Student-Athlete Advisory Council granted a life changing wish and sent a family to the NBA All-Star Game.
Shelley Chapron
Public Health Graduate
Houston, TX
LSC Nominee for NCAA Woman of the Year
Responsible Lions
The student-athlete led Responsible Lions group led numerous initiatives supporting holistic wellness.
Alex Shillow
Sports Management Graduate
Pflugerville, TX
Campbell Trophy Semifinalist – LSC Fred Jacoby Academic Athlete of the Year
#MakeItImportant
The Lions won third place in the 2020 Division II Award of Excellence for the student-athlete led #MakeItImportant Initiative.
Back to menu
Lion Champions Fund :: Our Facilities
The Impact of your Support
Back to menu
Lion Champions Fund :: Explore Our Programs copied not edited copied not edited
Your Gift in Action
Increased Academic Resources
The Thrower Center is the premier student-athlete success center in Division II and continually provides Best In Class service in academics and student life.
Facility Improvements
Over the past four years, every athletic program has received a brand new locker room or locker room enhancement through the support of our donors.
Best In Class Travel
Since 2015, over 50 Lion Athletics teams have qualified for NCAA postseason, and LCF support has assisted in making sure they travel in comfort and have plenty of time to arrive at road contests to prepare.
Expanded Sports Medicine Facilities
Lion Sports Medicine has had its capabilities to serve multiple teams at once expanded in the Field House, Memorial Stadium and west campus facilities.
Back to menu
Lion Champions Fund :: Impact of My Gift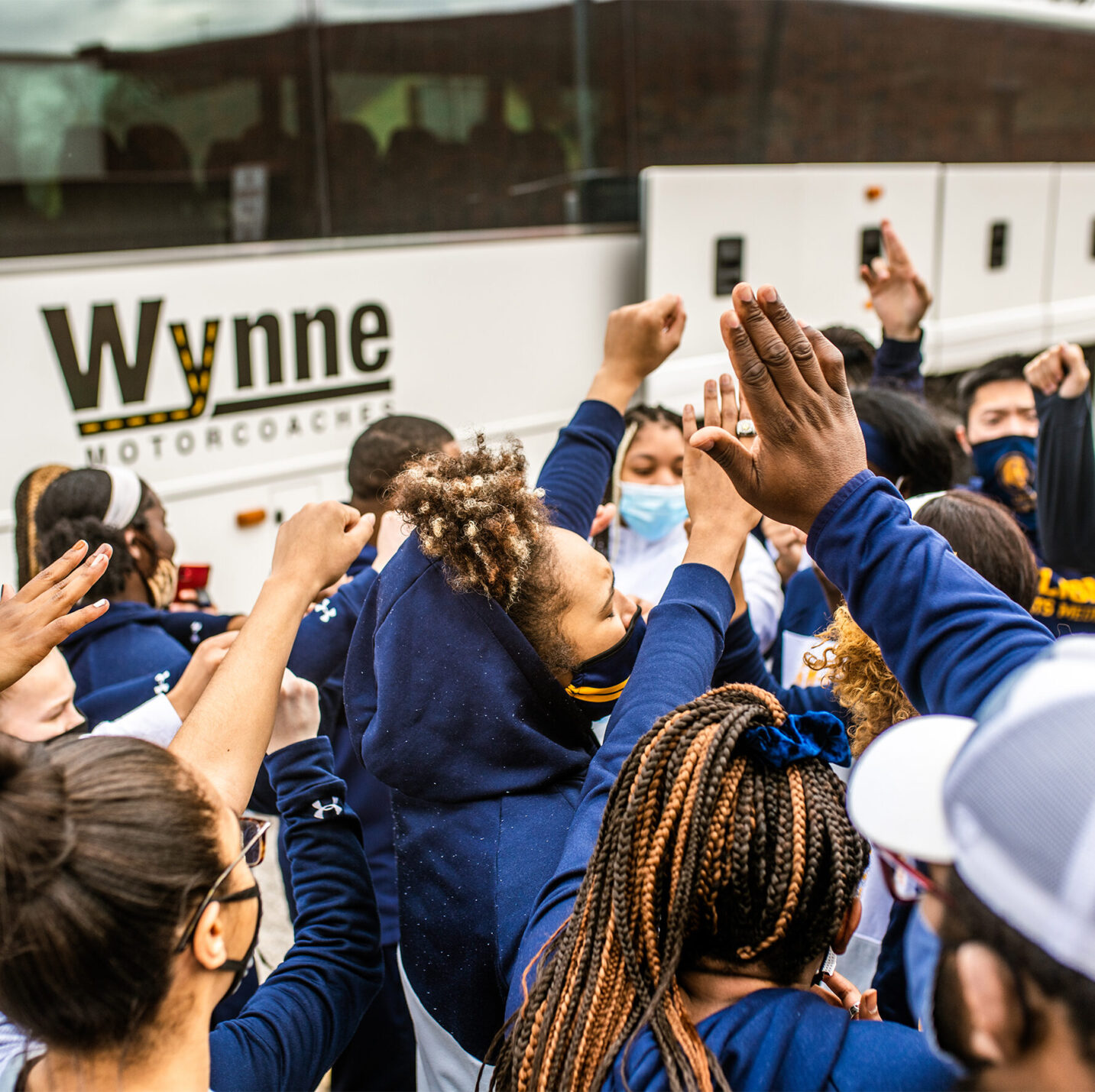 Impact of Your Gift
$5/MONTH ($60 annually): Varsity L Club Membership Young Alumni Only
$10/MONTH ($120 annually): Average cost of uniform or a student-athlete travel trip
$50/MONTH ($600 annually): Average cost for books per semester
$200/MONTH ($2,400 annually): Sports Performance / strength and conditioning equipment
$416.66/MONTH ($5,000 annually): F.A.S.T.E.R. Program Food service and nutrition
$10,000: Average cost of tuition and fees per year (fall, spring and summer)
Back to menu
Lion Champions Fund :: How to Give
Ways to Give
You can make a donation in the following ways:
Give Online
Make an easy secure donation online.
Give by Mail
Checks can be mailed to:
Lion Champions Fund
P.O. Box 3011
Commerce, TX 75429
Give by Phone
We can take a credit card secure payment over the phone. Please call 903.468.8760.
Automatic Monthly Payment Plans
Automatic payment plans are an easy way to split your gift into smaller payments. To set up a personal plan please contact the Lion Champions Fund Staff by calling 903.468.8760.
Matching Gifts
Many employers match charitable contributions made by their employees. If your company has a matching gift program, request the appropriate form from your employer and send it in with your gift.
Gifts-In-Kind
In some situations, gifts or goods/services will be accepted in lieu of a cash contribution. All gifts-in-kind must be approved by the Lion Champions Fund.
Back to menu
Lion Champions Fund :: Testimoni
Why We Give
Scott Wheeler
"We enjoy helping young people who are working to improve them- selves both academically and physically. Athletics can mean so much to a university well beyond the student-athletes, involving the band, cheerleaders, dance squad, students, alumni, faculty, staff, and more, creating a true esprit de corps, a sense of community and yes, a PRIDE. Truth is, most people hear about a university via its athletic programs and therefore they are even more important."
James Thrower
"Our family is proud to support the Thrower Student-Athlete Success Center and other Lion Champions Fund initiatives. We are so honored to impact student success through the LCF and celebrate champions in the classroom and in competition. Go Lions!"
Janis and Ralph Stroope
"Ralph and I give because we know how hard the student-athletes work to put Commerce on the map! Our gifts provide a better experience for them, and will help them reach their goals and dreams. It is ALL ABOUT THE STUDENTS!"
Back to menu
Lion Champions Fund :: Featured News
News Spotlights
Vela Named LSC Setter of the Year, Six Other Lions Named All-LSC
By Lion Athletics RICHARDSON – Seven members of the Texas A&M University-Commerce volleyball team received all-conference recognition from the Lone Star Conference during Thursday night's awards banquet.Celeste Vela (Guadalajara, Mexico) was named LSC Setter of the Year. Vela and Maddy Rashford (Placentia, Calif.) earned first team all-LSC honors, Essence Allen (Tatum) and Lyric Hebert (Arvada, […]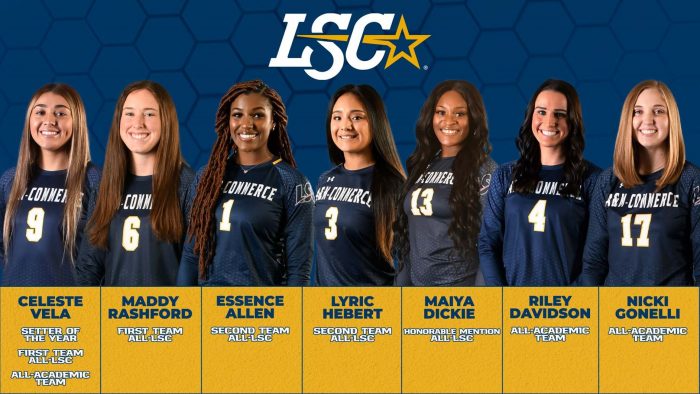 Kohou's Defensive Back of the Year Award Among 18 Lions Named to All-LSC Teams
By Lion Athletics RICHARDSON – Texas A&M University-Commerce football team is well represented in the Lone Star Conference's year-end awards and honors. 18 members of the Lion football have been named to the all-conference and all-academic teams announced on Friday afternoon. Kader Kohou (Euless – Trinity) has been named the 2021 Lone Star Conference Defensive […]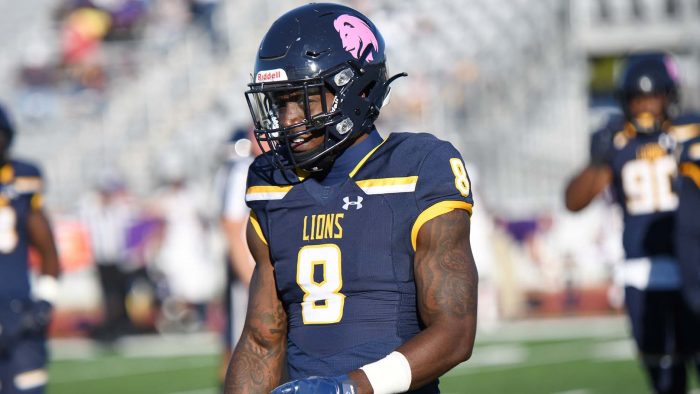 Willis Knocks Down Buzzer Beater to Beat UTSA, 65-62
By Lion Athletics SAN ANTONIO – Alphonso Willis banked in a three-pointer from near the logo at the UTSA Convocation Center as the clock expired, giving the Texas A&M University-Commerce men's basketball team a 65-62 victory over the UTSA Roadrunners on Nov. 15. The Roadrunners tied the game at 62-all with four seconds left on […]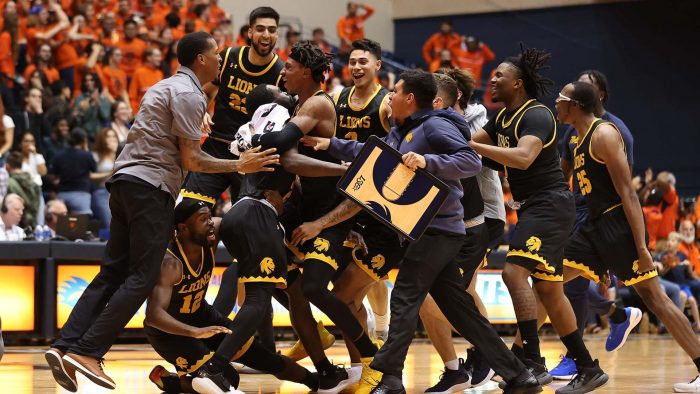 KarolAnn and Chris DeLong Recognized for Transformational Men's Basketball Gift
By Lion Athletics COMMERCE – Texas A&M University-Commerce and Lion Athletics recognized KarolAnn and Chris DeLong with a ceremony on Saturday, November 13, in recognition of their transformational leadership gift to the university and the Lion men's basketball program. The DeLongs' donation includes operational support and an endowment fund for summer school and postgraduate scholarships. […]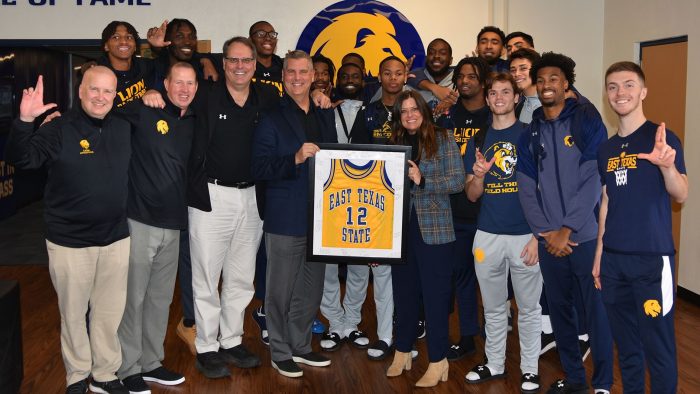 No. 11 Lion Women's Golf Wins the Ranger Invitational by 30 Strokes
By Lion Athletics ENID, Okla. – All six members of the Texas A&M University-Commerce women's golf team finished in the top-eight at the Ranger Invitational, including five of the top-six. The Lions won the six-team tournament hosted at the Meadowlake Golf Course this week by 30 strokes. The Lions compiled a team score of 615 […]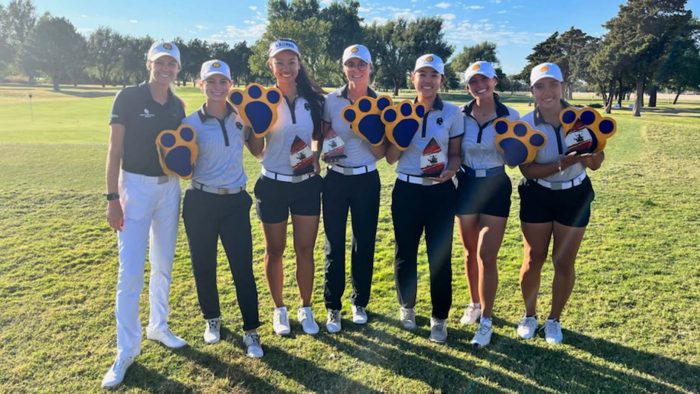 Brookshire's Signs on as "Official Grocery Partner of A&M-Commerce Athletics" in Multiyear Agreement
By Lion Athletics COMMERCE – Texas A&M University-Commerce and Brookshire Grocery Co. have entered a multiyear agreement designating Brookshire's as the Official Grocery Partner of A&M-Commerce Athletics. The agreement is the second-largest overall corporate partnership in Lion Athletics history, expanding on an already strong relationship between the Lions and Brookshire's. "We are so pleased to […]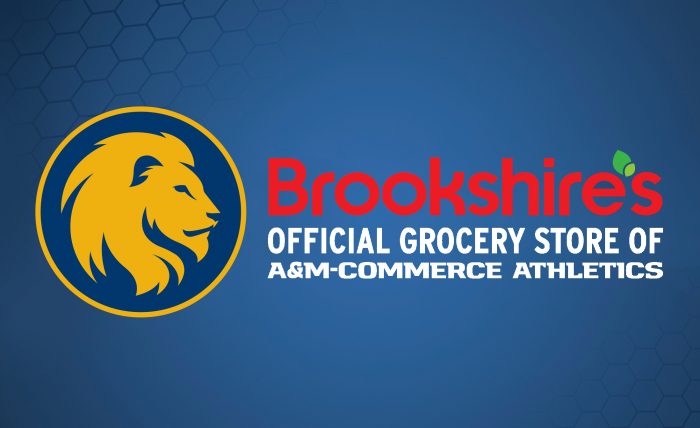 Alex Shillow Named to 2021 Allstate AFCA Good Works Team
By Lion Athletics NORTHBROOK, Ill. – Texas A&M University-Commerce football standout Alex Shillow has been selected on the 2021 Allstate AFCA Good Works Team ®. He is one of the 11 student-athletes selected for the Combined Divisions (FCS, Division II, Division III and NAIA) team. Shillow, a senior defensive back from Pflugerville, was selected from […]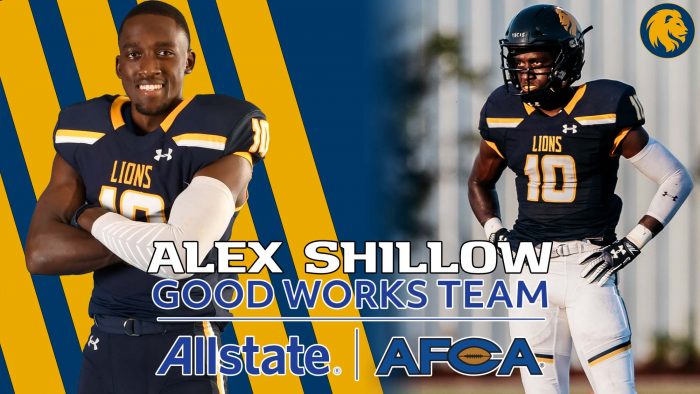 Texas A&M University-Commerce Accepts Invitation to Southland Conference
By Josh Manck, Lion Athletics COMMERCE – The Southland Conference, following the unanimous approval of its presidential Board of Directors, has extended an invitation of membership to Texas A&M University-Commerce, the league and institution announced Tuesday morning. The university, a longstanding NCAA Division II power located an hour east of Dallas, will officially join the […]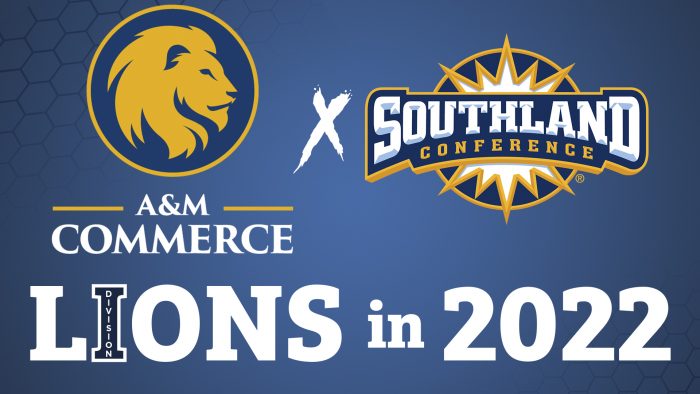 TAMUC Lions are LSC Football Preseason Favorites; Smalls, Ramsey Named Preseason Players of the Year
McKINNEY – Texas A&M University-Commerce took top honors at the annual Lone Star Conference Football Media Day on Monday, as the Lions were chosen as the favorites in the preseason poll, and Miklo Smalls and Dominique Ramsey earned Preseason Player of the Year honors. A&M-Commerce went 11-3 in its first season under head coach David […]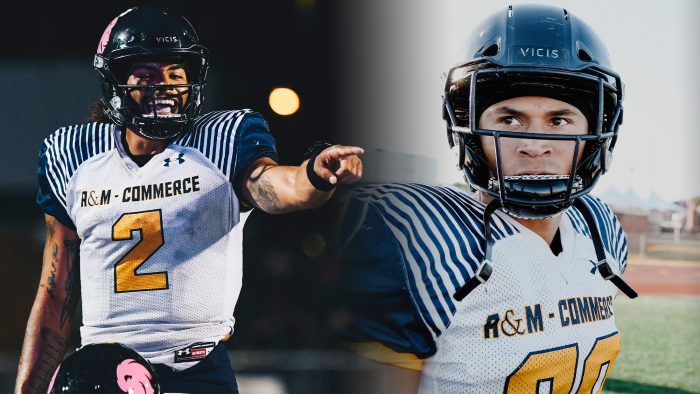 Lion Men's Basketball Earns 2020-21 NABC Team Academic Excellence Award
KANSAS CITY, Mo. – The Texas A&M University-Commerce men's basketball team has been recognized as a recipient of the National Association of Basketball Coaches (NABC) Team Academic Excellence Award, as announced by the NABC Thursday. These awards recognize outstanding academic achievement by teams with cumulative grade point averages (GPA) of 3.0 or better for the […]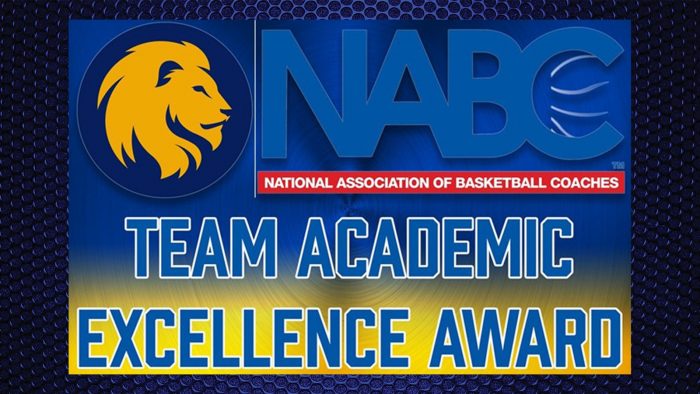 Back to menu
Lion Champions Fund :: National Recognition
The Varsity L Club
The A&M-Commerce/ET Association of Former Student-Athletes – is an organization formed to reconnect former student-athletes to our university and Lion Athletics.
Just four years ago, we had less than 300 accurate former student-athlete contact points, and that number is increasing every day!
Join TODAY by updating your contact information and securing your spot with a $30 donation to the LCF. You will receive a Varsity L Club decal, and your sport specific sticker with your registration and gift.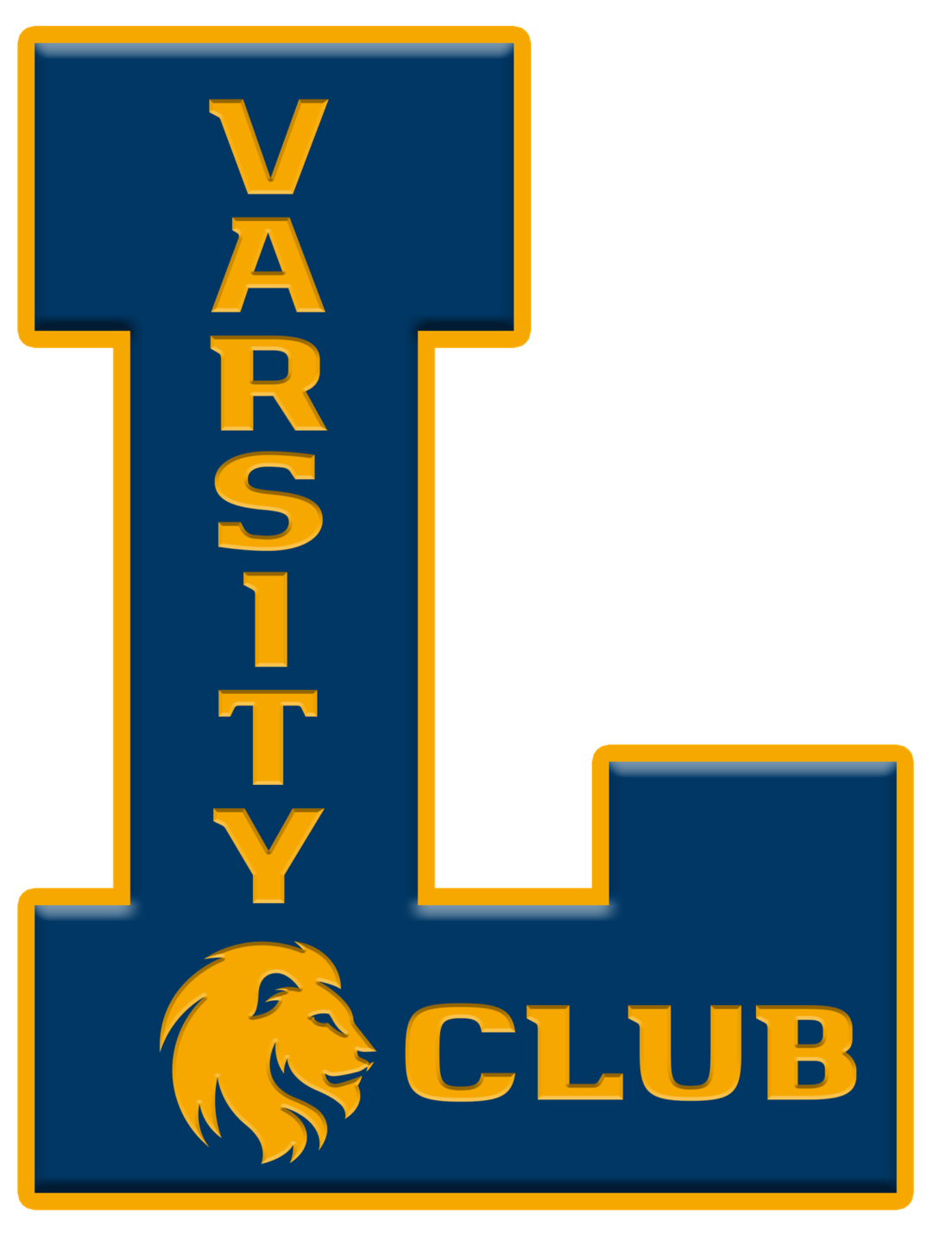 Back to menu
Lion Champions Fund :: Meet our Faculty and Staff
Meet our Department
Back to menu
Lion Champions Fund :: Contact
Contact Us
P.O. Box 3011
Commerce, TX 75429-3011
Back to menu