A&M-Commerce Graduate Shows Heart for Teaching During COVID-19 Pandemic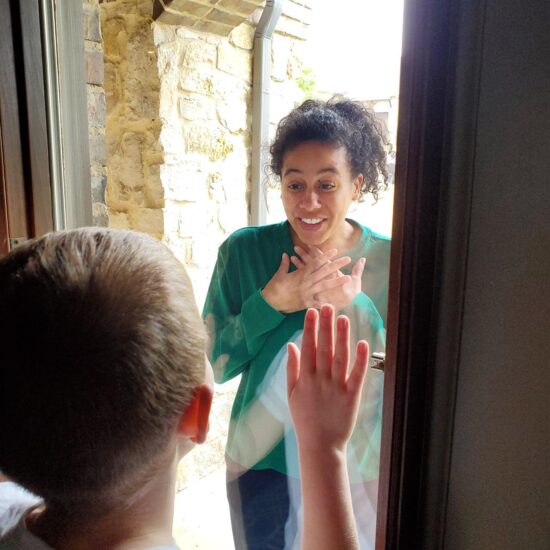 Jamie Allen, a Texas A&M University-Commerce alumna from Rowlett, Texas was recently featured on nbcdfw.com when a parent caught a heartwarming photo of her interacting with a student through the glass of their front door.
Allen graduated from A&M-Commerce in 2015 with a bachelor's degree in interdisciplinary studies and teaching certification. That same year, she began teaching at The Fulton School, an independent STEM school in Heath, Texas.
Allen teaches English and language arts, math, science and social studies to her third-grade students. She also teaches STEM classes to the school's pre-k through third-grade classes.
Recently, her teaching career was put on lockdown when The Fulton School sent students and staff home after spring break due to the spread of COVID-19. However, the global pandemic has not stopped Allen from teaching and connecting with her students.
Every other Monday, Allen personally delivers upcoming classwork to each of her four third-grade students' front doors, along with a special gift. It's not the same as interacting with them in the classroom or giving them hugs or pats on the back, but she enjoys seeing their faces and talking to them through the glass.
"It's about building personal relationships with each student," Allen said. "Teaching isn't possible without meaningful relationships."
Although Allen misses the classroom, she says there are many resources that help facilitate effective online learning—like library resources that students can access as part of their lessons. Allen can also interact with students and parents online with apps like Google Classroom, Meet and Hangouts.
One of Jamie's mentors at A&M-Commerce, Dr. Susan Williams from the Department of Curriculum and Instruction, isn't surprised to see her former student persevering through the challenges of teaching during the pandemic.
"Jamie goes above and beyond in everything she does," said Williams. "She has the 'it' factor that can't be taught…it's just in her heart!"
While schools in Texas have been shuttered for the remainder of the school year, Allen looks forward to the day when she can return to the classroom and reunite with her students.
View the nbcdfw.com article.