A&M-Commerce Sport and Recreation Management Students Assist with Nationally Televised NCAA Football Games
Several students in the Sport and Recreation Management program at Texas A&M University-Commerce volunteered at two NCAA football games in 2021, the NCAA DII Football Championship game and the Armed Forces Bowl.
Clay Bolton, Ed.D., associate professor and program director, reports that he and 22 students worked the national championship game at McKinney ISD Stadium on December 18, 2021, which saw the Ferris State Bulldogs defeat the Valdosta State Blazers, 58-17.
The students worked with the NCAA and A&M-Commerce alum Laura Keahey—assistant athletic director for McKinney ISD and a member of the Sport and Recreation Management program's industry advisory board—to manage two pro shop suites selling merchandise to fans from both universities. The game marked the third consecutive national championship game that the program has worked in conjunction with the NCAA and McKinney ISD.
Bolton also accompanied 18 of the program's students as they worked with ESPN and TCU Athletics to help present the Armed Forces Bowl on December 22, 2021, at Amon G. Carter Stadium in Fort Worth, Texas. The group installed sponsorship boards, set up program stands and helped veterans' groups with displays. The group also managed the trophy presentation that evening following Army's 24-22 win over Missouri.
"It's amazing to work alongside our students to execute two nationally televised intercollegiate events," Bolton said. "Events like these allow our students to experience the work behind the scenes and see the fruits of their labor."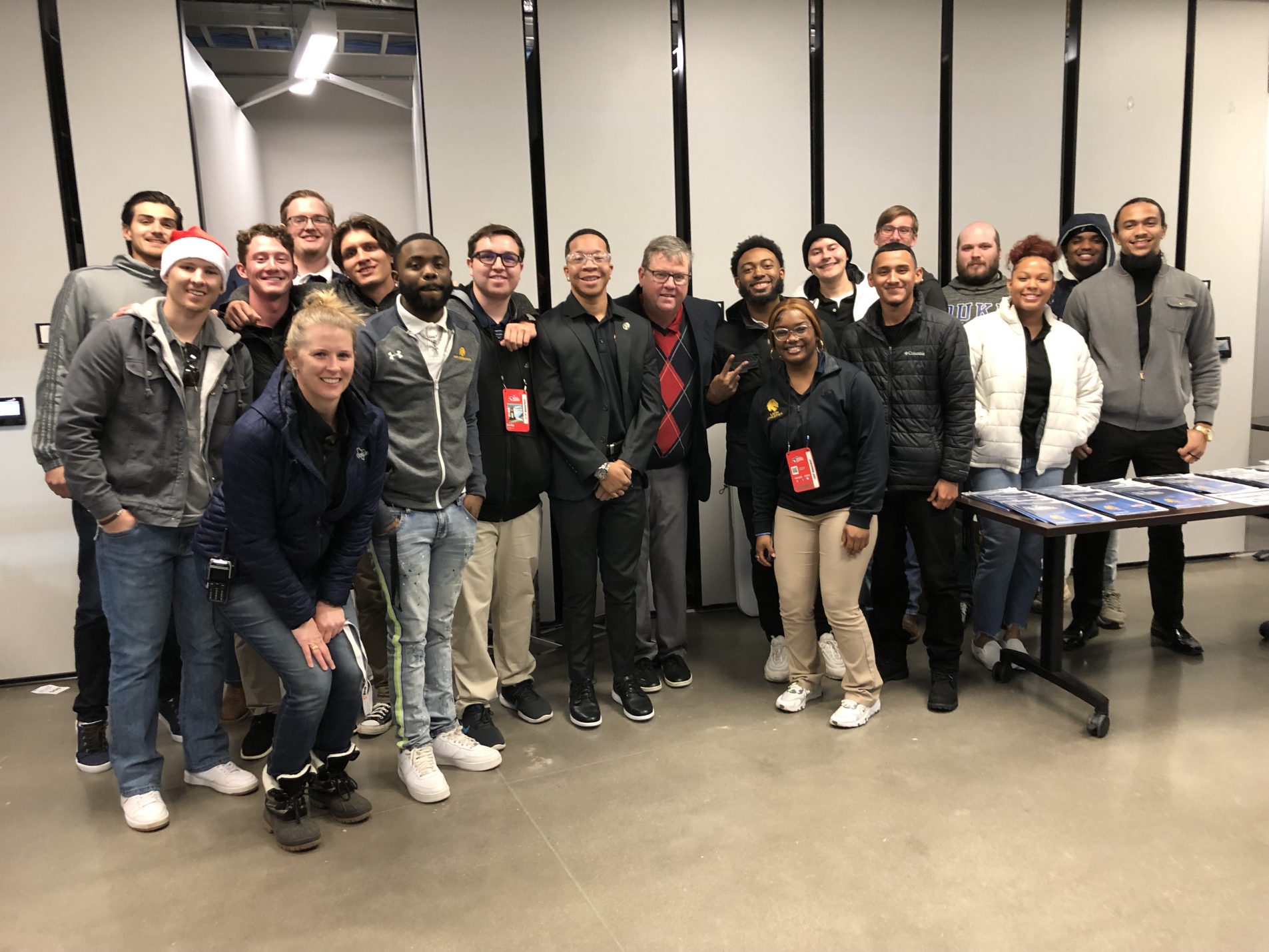 Three students who worked both events recognized the experience as a unique opportunity unavailable to most students.
Makayla Martin said the events culminated into the experience of a lifetime.
"Volunteering for events like this helps students build connections and become knowledgeable of the duties and responsibilities that workers in the sports industry must master for events to run smoothly," Martin said. "Seeing the behind-the-scenes work, getting up early, and staying late allowed me to better understand what it takes to be successful in the sports industry."
Joseph Khabaz expressed his gratitude for the opportunity to work both events during his first semester at A&M-Commerce.
"I gained valuable experience and a collegiate perspective working both events," Khabaz said. "I am looking forward to more of these opportunities as I finish my bachelor's degree in sport and recreation management."
Terry "Trey" Pierce said the national championship game is always a fun and joyful experience. Yet, as a student interested in marketing and multimedia, he said the opportunity to work with ESPN for the Armed Forces Bowl was truly amazing.
"I was able to work with individuals who are doing what I want to do and pick their brain to gain insight I couldn't have learned anywhere else," Pierce said. He also admitted enjoying gameday perks such as all-access passes and being up close and personal for the winning team's trophy ceremony.
Bolton said the program appreciates the opportunity to provide students with enriching experiences that advance their career aspirations.
"We owe special thanks to our partners, McKinney ISD and the NCAA—especially alum and board member Laura Keahey—for these great learning experiences for our students," Bolton said. "We're also extremely grateful to TCU Athletics and ESPN's Monty Clegg for the opportunity to work our second Armed Forces Bowl game."
Learn more about the Sport and Recreation Management program at A&M-Commerce.