Biological Sciences Alumna Triumphs Over Adversity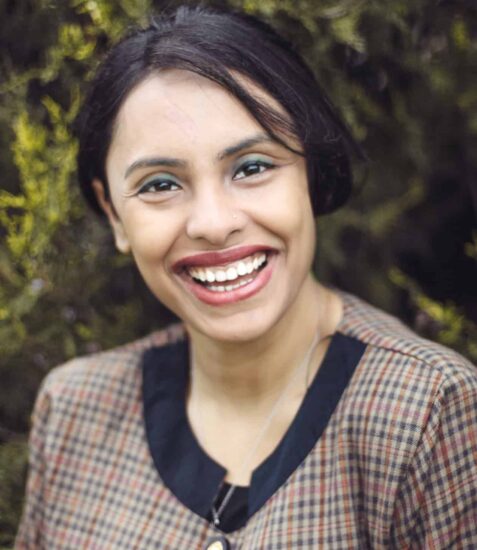 Pipasha Biswas has noble goals, like healing the human heart and curing cancer. But that's not the only reason she is so inspiring. Recently, when unimaginable pain and loss blocked her path and tested her endurance, Pipasha forged ahead, holding tight to her plans and her passions, in spite of everything.
The young research scientist moved to the U.S. from Bangladesh in 2015. In search of a graduate program, she discovered Dr. Larry Lemanski's groundbreaking research at A&M-Commerce and knew she wanted to help advance his research on regenerating damaged heart tissue.
"I'm from a developing country; I saw so many of my relatives and so many of my friends die because of heart attacks," said Pipasha, who views regenerative medicine as an opportunity to bring new life to her family and friends.
Pipasha was accepted into the biological sciences program at A&M-Commerce and began her graduate studies in Spring 2018.
While everything appeared to be coming together for Pipasha, it wasn't long before her life seemed to unravel. The year 2018 dealt crushing blows that tested the strength of her ambitions.
The first blow came in February when her 14-year-old brother was kidnapped from the family's home in Bangladesh. Two endless months later, she finally learned that he was safe.
The second blow came in May. The day before finals, Pipasha learned that her father had been diagnosed with advanced-stage liver cancer. "The day after that news, I had my final exam," she recalled. "I cried a lot, but I never stopped."
Through those dark days, Pipasha continued to study and make all A's, assist anatomy and physiology classes, work in the lab and even prepare for the annual Pathways Research Symposium at West Texas A&M University where she won second place.
Some predict that tragedies come in threes, and in Pipasha's experience, that was the case. On November 27, she was traveling Highway 24 with three of her classmates when a truck crossed their path. Pipasha remembers the moment of impact but nothing else. The wreck shut down the highway and care flight helicopters were summoned. Pipasha was hospitalized with a head concussion, five broken ribs, lacerations on her leg and hand, and paralysis in her legs.
After her accident, she spent eight weeks in recovery. "At that time, I started to feel like there were so many obstacles in my path," Pipasha recalled. "Sometimes I wondered, 'Why is everything so hard?'"
Despite the challenges, Pipasha pushed forward. In February 2019, she returned to A&M-Commerce where she dove back into her classes and lab work.
She also prepared a research presentation for the annual Lions Innovation Showcase held at A&M-Commerce in April. Under the circumstances, no one expected her to enter the exhibition, much less win. Astoundingly, she won first place for her innovative research.
"Despite everything, I kept going," Pipasha said.
Today, Pipasha is looking forward to the next step on her journey. She graduated in August with a master's degree in biological sciences, and she plans to pursue a doctoral study of cardio-oncology with the hope of finding a cancer cure.
As she steps into her future, Pipasha will continue to face every obstacle with the grit and determination to move forward. "Maybe this is my most strong point," she reflected. "Everything I've faced in my life, I always keep my work, my passion in sight."