First Graduates of A&M-Commerce Electrical Engineering Program Announced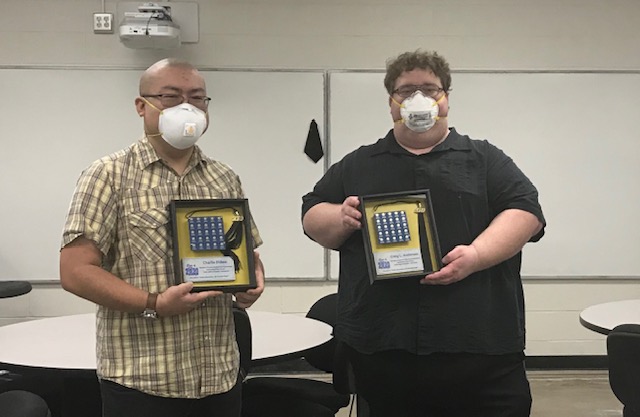 A&M-Commerce alums Charlie Didear and Craig Anderson made history this month as the university's first two electrical engineering graduates.
Dr. Andrea Graham, head of the Department of Engineering and Technology, and faculty member Patrick Carter recently presented them with commemorative shadow boxes—which Carter made himself—to celebrate their historic significance as the program's first graduates.
Didear, who transferred to A&M-Commerce from Paris Junior College, also majored in mathematics with a minor in computer science and graduated with a 4.0 GPA. He recently signed with Bell Helicopter as an avionics system engineer.
Anderson, having previously attended A&M-Commerce, returned when the electrical engineering program was offered. He chose to finish his degree before testing the job market, but Carter suspects it won't take long for Anderson to find a great opportunity as well.
Carter says both graduates have bright futures and he's proud of them for setting a high standard for future electrical engineering students at A&M-Commerce.
Carter has also played a significant role in the program's history. After retiring from a 36-year career with L3 Communications, now L3Harris, Carter accepted a position as distinguished lecturer with A&M-Commerce to become the program's first classroom instructor. He says he was hesitant to transition from industry to academia, but now he's glad he made the switch. "Helping to build this program and teaching these students is an awesome experience on a daily basis," Carter said. "It's added years to my life."
Dr. Brent Donham, dean of the College of Science and Engineering, says it took nearly two years to get the electrical engineering program approved and implemented. "It's especially gratifying to see the first graduates of our third engineering program," Donham said.
"We're disappointed that we can't celebrate their accomplishment at commencement," Donham added, "but I'm grateful to Dr. Graham and Mr. Carter for finding a meaningful way to mark the occasion."
The electrical engineering program has grown from five students in 2017, its first year, to more than 90 this year. "We are now the largest of the engineering programs at A&M-Commerce," said Carter. "Well over a hundred students have been admitted to the program for the fall term."
The department hopes at least 40-50% of those admissions will follow through to begin at A&M-Commerce this fall. The program now has two additional faculty members, Dr. Nizer Tayem, and Dr. Redha Radaydeh. Carter says more faculty will be needed if the program continues to grow at its current rate.
According to Graham, electrical engineering is one of the top careers in the engineering field, especially in a region like East Texas, where there are several power and manufacturing companies. "The breadth and depth of the electrical engineering major provide a significant number of opportunities for graduates," said Graham.
Graham continued, "With the success of electrical engineering and other engineering programs we're considering, the College of Science and Engineering at A&M-Commerce is positioned to significantly contribute to the university's future growth."
With its first successful graduates the department will seek accreditation from the Engineering Accreditation Commission of ABET in fall 2020. ABET is a non-profit, non-governmental agency that accredits educational programs in applied and natural science, computing, engineering and engineering technology. The department's programs in construction engineering and industrial engineering are both ABET accredited.
ABET accreditation assures that each program meets quality standards of the profession for which the program prepares graduates. Once the electrical engineering program is accredited, Didear and Anderson will be retroactively recognized as graduates of an ABET accredited program.
Learn more about the A&M-Commerce electrical engineering program.