Lions Recall TAMUC Experiences as Part of International Education Week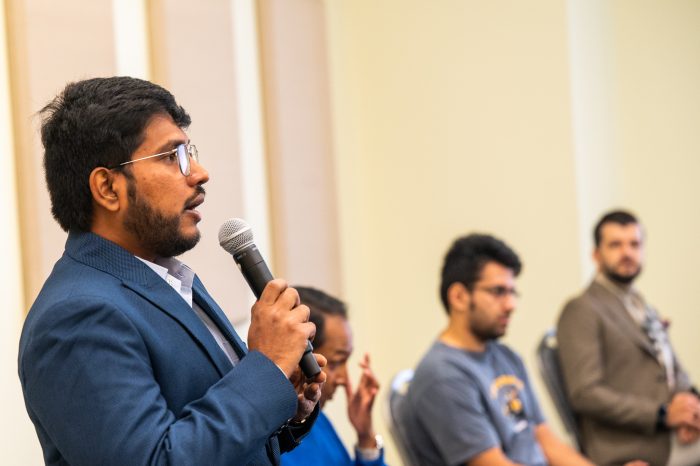 During the Transforming Lives: International Alumni Panel at Texas A&M University-Commerce on Nov. 16, several Lions discussed their experiences as international students, including why they chose A&M-Commerce and how the university has transformed their lives.
The panel was one of several events hosted by the Office of International Programs at A&M-Commerce to celebrate International Education Week.
International Programs Director Priyangana Risal said International Education Week is meant to inspire domestic students to study abroad and invite international students to represent themselves at the university.
The panel featured four A&M-Commerce alums, or soon-to-be alums:
Mohammed Arifuddin is an Amazon Web Services developer who graduated in Summer 2022 with a Master of Science in Computer Information Systems. He was an international student from India.
Amitava Bose graduated with a Master of Business Administration degree in Summer 2002 and is currently working on his master's degree in business analytics at A&M-Commerce. He has worked as both a university faculty member and corporate executive in Bangladesh. Currently, he is a graduate assistant in the dean's office for the College of Business.
Arbaz Hamid Bamboowala will graduate with a Master of Science in Business Analytics this semester. Bamboowala is an international student from India.
Yazan Ezzat Mufreh Kakish graduated from the New York Institute of Technology with a Bachelor of Science in Business Administration (marketing concentration) in 2006 and a Master of Science in Marketing from A&M-Commerce in Spring 2022. He is the director of Marketing and Communications for the College of Business at A&M-Commerce. Kakish was an international student from Jordan.
During the event, the audience asked the panelists questions about their experiences at A&M-Commerce.
When asked why they chose A&M-Commerce, several panelists said the university is affordable and offers numerous departmental and university scholarships.
"If you ask any A&M-Commerce international student, I think the first thing they will tell you is that tuition is much more affordable for international students than other universities," Kakish said. "I got acceptance letters left, right and center, but the cost of tuition for international students can be steep. The affordable tuition and the graduate assistant position at A&M-Commerce helped alleviate the financial burden."
According to Arifuddin, international students also choose A&M-Commerce because it is a trusted Texas A&M University System member.
"When I researched this university, I found it to be really exciting because A&M is a brand within itself," Arifuddin said. "There are several schools within the A&M System, but A&M-Commerce is the one that international students have a lot of things to say about. This is one of the reliable universities."
The panelists also discussed ways A&M-Commerce has transformed their lives and prepared them for professional careers. Several mentioned the impact of networking opportunities.
"I like A&M-Commerce because it is a multicultural society," Arifuddin said. "As a student, I met with different personalities, professors, and classmates of different ages and backgrounds because I understood that when I graduated, I would work with a variety of people."
Several panelists also agreed that the availability of graduate assistantships at A&M-Commerce was transformational.
Bose said he is learning valuable leadership skills as a graduate assistant in the College of Business, where he works with Dr. Mario Hayek, dean of the college.
"Dr. Hayek is one of the most dynamic leaders I have ever seen. Seeing him up close—how he works, how he gets things done, how he talks to people—I learn something from him every day," he said.
Kakish added that his graduate assistantship fostered connections that eventually led to his position in the College of Business.
"I got to work with A&M-Commerce alumnus Scott Wheeler on a project," Kakish said. "I was presenting to him via Zoom, and he later approached me during one of our sports games and said, 'Young man, we've got to keep you at the university somehow.' Then, Mr. Scott championed that with Dr. Mario and the university. So, my GA position, combined with networking, has had a tremendous impact on my life."
The panelists also discussed their challenges as international students, including finding ethnic food and public transportation in the small town of Commerce.
Despite the challenges, Kakish emphasized that a more intimate university setting, like A&M-Commerce, can be helpful for international students as they transition to U.S. culture. It can be easier to make personal connections because the student-to-teacher ratio is smaller, and students are known by name.
The panelists agreed that the Office of International Programs has been a powerful resource for them, providing support to help them thrive at A&M-Commerce and beyond.
"The International Programs office played a vital role during my time at A&M-Commerce," Bamboowala said. "The office provides guidance to international students, and Priyangana Risal, the director, does her best to support international students with any challenges they face. She always has a solution!"
Risal closed the panel discussion by expressing pride in the panelists.
"We are proud to call you Lions every single day, and we are proud to represent you," she said. "Hopefully, you feel the same about us when you go to the job market and when you tell your family and friends about A&M-Commerce."
Learn more about the Office of International Programs.
View the Alumni Panel photo gallery.