Longtime A&M-Commerce Faculty Member Honored with Emeritus Status
The Texas A&M University System Board of Regents recently honored retired Texas A&M University-Commerce faculty member Henry Ross, Ph.D., with the designation of Instructor Emeritus of Health and Human Performance.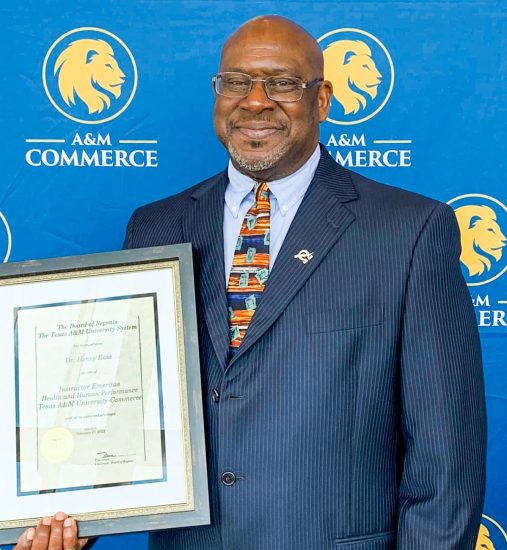 The Emeritus designation is the top honor granted to retired A&M System employees to recognize their achievements and dedication to their respective institutions. Ross retired from A&M-Commerce in August 2021 after 36 years of service to the university.
Recruited by legendary East Texas State University (ETSU) football coach Ernest Hawkins, Ross arrived at ETSU (now A&M-Commerce) in 1985 as an assistant football coach and physical education instructor after serving in the same capacity at his alma mater, Kentucky State University.
"Teaching was a huge priority," Ross recalled. "The greater majority of our salary came from teaching. We were informed that we were teachers who just happened to also coach."
DeMarquis Hayes, Ph.D., assistant dean and associate professor in the College of Education and Human Performance, said Ross earned a reputation for focusing on student development and success during his tenure at A&M-Commerce.
"Dr. Ross has served this university with distinction in various capacities through the years. The one constant is that he always put students first," Hayes said. "This honor is a way for us to recognize his excellence and put him first for a change."
Kimberly McLeod, Ed.D., who serves as dean of the College of Education and Human Services, agreed, saying the college is proud to see Ross honored with Emeritus status.
"I'm pleased that the A&M System has recognized Dr. Ross for the incredible impact he has had on our college and the university," McLeod said. "His legacy continues through the lives of the students and faculty he served."
Ross attributes his success to hard work, dedication and a desire to be the best he can be.
"This poor little kid from Birmingham, Alabama, has come a long way. And yet, I still have a long way to go," Ross said. "I often say, 'It doesn't matter where you come from; it's where you're going that counts.'"
He said he is grateful for the university colleagues who nominated him for Emeritus status and the students he has been privileged to teach.
"I am indeed honored to receive this designation from the A&M System Board of Regents," Ross said. "I want to thank my health and human performance colleagues for working with me toward our goal of providing the best possible education for our students."
Although he plans to fill his retirement years with motorcycle trips across Texas and beyond, and extensive domestic and international travel to visit family and friends, Ross can't quite shake the call to teach. He recently accepted the opportunity to continue serving the Department of Health and Human Performance in an adjunct capacity.
"I hope that my teaching continues to inspire a passion for learning each day that I enter the classroom," Ross concluded.
View photos from the ceremony and learn more about the Department of Health and Human Performance at A&M-Commerce.