Nacogdoches' Walker Surgery Center Named after A&M-Commerce Alumnus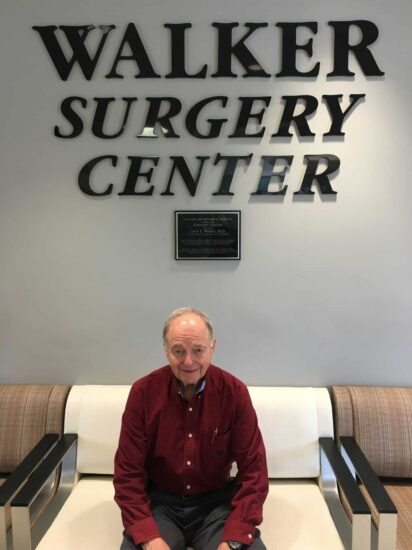 A&M-Commerce Distinguished Alumnus Dr. Larry Walker retired in July 2017 after more than 44 years of selfless service as a surgeon. He practiced medicine in Nacogdoches from 1973 until his retirement in 2017, and Nacogdoches Memorial Health named the new Walker Surgery Center in honor of his life-saving work.
Throughout his career, Walker served in many positions including medical director of Hospice of Deep East Texas, chief of surgery of Nacogdoches Memorial Hospital and board of directors for Nacogdoches County Hospital District.
At age 15, Walker set his sights on becoming a physician, following in the footsteps of his great-grandfather, a country doctor who made house calls on horseback. Walker began his educational journey at East Texas State College, now A&M-Commerce, earning a biology degree and gaining a solid foundation in science that prepared him for medical school. He continued his education at Baylor College of Medicine in Houston.
"I didn't have any problem keeping up in medical school," Walker recalled, crediting the quality of his undergraduate education. "You can get as much education as you want at A&M-Commerce. They tried to teach me more than I could learn."
He graduated from Baylor in 1966 as a medical doctor. After serving in the military for almost two years, including war-torn Vietnam as commander of the B Company 23rd Medical Battalion, Walker returned to Baylor and graduated as a surgeon in 1973.
Following graduation, Walker and his wife Diana chose the historic East Texas town of Nacogdoches as their new home and the site of Walker's medical practice. For the next 44 years, Walker built his career on a strong set of values which ensured the best care for his patients.
Notably, he cared for his patients with compassion and respect. "The patient is not just a diseased anatomic entity," Walker emphasized. "The patient is a personality, a spirit. Dignity is the last thing you want to take away from somebody…No matter where their strata is in society, they have a right to as much dignity as anybody. I think it's the physician's responsibility to maintain that."
Walker also valued hard work. He never shied away from the challenging medical school curriculum. As a surgery resident, he threw himself into the grueling schedule, working day and night, with little sleep, operating on victims of violence and car accidents. Hard work was also a foundation of his thriving medical practice. He labored tirelessly to ease the pain of his patients for over four decades. "In medicine, particularly surgery, it's not over till it's over," Walker said. "You've got to finish what you start."
Reflecting on his remarkable career, Walker concluded, "It's really a fabulous, fabulous trip. I couldn't have drawn it up any better."