TAMUC Freshmen to Explore 'Spare Parts' by Joshua Davis as Newest Book in Common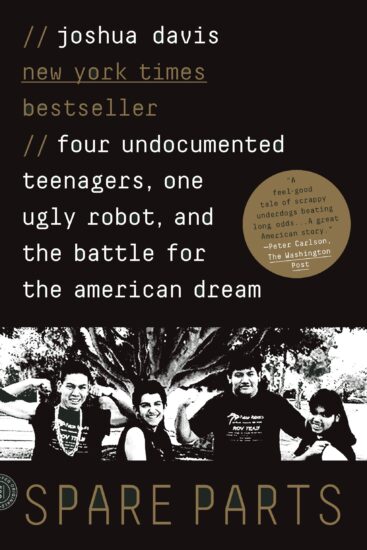 First-year students at Texas A&M University-Commerce will enjoy a shared reading experience as they engage with the latest Book in Common for the 2021-22 academic year.
Funded by the Office of the President, the Book in Common initiative is an ongoing study for A&M-Commerce freshmen that brings students together to learn in an environment that fosters discussion and reflection as they navigate their first year of college. Students will engage in deep and thought-provoking conversations as they read the book.
The Book in Common is also part of the Transforming Relationships and Academic Connections initiative, which aims to incorporate high-impact practices into the first-year experience to ensure success both inside and outside of the classroom.
Yvonne Villanueva-Russell, Ph.D., dean of the College of Innovation and Design at A&M-Commerce, explained the scope of the yearly Book in Common.
"Each year, a new title is selected with the intention of generating critical thinking, dialogue and deeper learning on 'big questions' that transcend disciplines," Villanueva-Russell said. "Students are guided to explore and discuss issues within the book in their courses, but campus-wide activities supplement this to engage and involve a diverse range of offices on campus."
This year's selection is "Spare Parts: Four Undocumented Teenagers, One Ugly Robot, and the Battle for the American Dream" by Joshua Davis. Published in 2014, Davis' work explores the true story of four undocumented Mexican immigrants who enter a high-profile robotics competition. The work covers the themes of overcoming insurmountable odds and the difficulties faced by undocumented minors in the United States.

The book became a New York Times Best Seller, a finalist for Columbia University's J. Anthony Lukas Book Prize and was adapted into a feature film in 2015 starring George Lopez, Jamie Lee Curtis and Marisa Tomei.
A major component of the initiative is a visit from the author. Davis is scheduled to appear at A&M-Commerce on Nov. 17 to discuss the book with students.
A&M-Commerce President Mark Rudin, Ph.D., touted the educational value of the Book in Common initiative.
"Through the Book in Common program, freshman students across all majors, as well as faculty, are unified with the study of one book that's chosen to provoke deeper thought and engaging discussions," Rudin said. "In this setting, they are allowed to be both students and the teachers as they collectively learn from one another."

Sierra Jones, assistant director of First Year Initiatives at A&M-Commerce, stated that she believes the book's subject matter will really resonate with students.
"There are a lot of parallels in the resiliency of the students in Spare Parts with the resiliency that has been demonstrated by so many of our incoming and returning students this year," Jones said. "We hope to be able to create connections among the freshman class, as well as draw the entire campus and local community into important discussions about social issues, grit and the importance of learning through dialogue."
Learn more about the .