TAMUC Recognized by Texas Higher Education Coordinating Board for Exemplary COVID-19 Response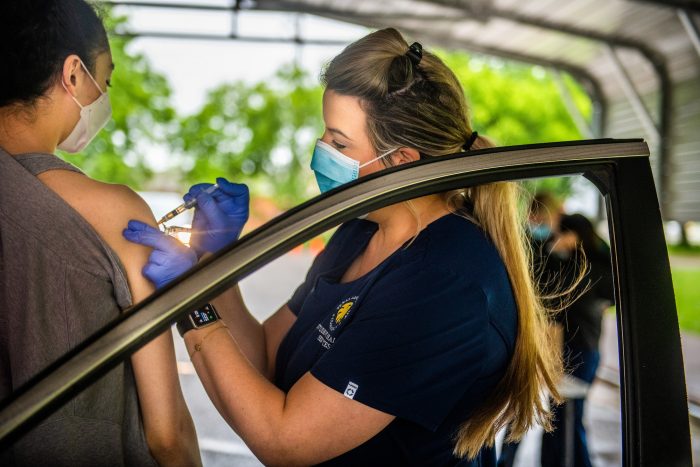 Texas A&M University-Commerce was honored this week as a 2021 Star Awards recipient by the Texas Higher Education Coordinating Board (THECB). A&M-Commerce was one of only ten universities in the state to be selected for the coveted annual award.
The 2021 Star Awards recognize Texas colleges and universities for outstanding responses to COVID-19. The awardees were selected based on their innovative efforts to protect their campus communities during the pandemic.
Other award recipients include University of Texas at Arlington, Houston Community College, University of Texas Health Science Center at San Antonio, Odessa College, University of Texas at Tyler, McLennan Community College, Sam Houston State University, Texas State Technical College and Lone Star College-North Harris.
During a THECB board meeting last Wednesday, Deputy Commissioner Ray Martinez praised Star Awards recipients for their "exemplary work in serving both their campus communities and also their local and regional communities in responding to this global health pandemic."
Commissioner Harrison Keller also lauded the awardees' superior COVID-19 responses.
"We had some excellent and heroic efforts from our institutions to support their students, faculty, their staff and also the broader community health responses during the pandemic," Keller said.
A&M-Commerce President Mark Rudin expressed gratitude for the honor on the university's behalf.
"We sincerely appreciate the THECB for recognizing our efforts to protect the health, safety and success of our community throughout the pandemic," Rudin said. "We are honored to be among the institutions receiving acknowledgment from the state's higher education leadership as we strive to achieve the goals of the state's strategic plan."
Since early 2020, A&M-Commerce has implemented numerous strategies to mitigate the complex challenges of COVID-19, including a comprehensive emergency operations plan, online learning, virtual healthcare, media campaigns and community vaccination clinics.
THECB is the state government agency that oversees all public and post-secondary education in Texas. The agency's mission is to provide leadership and coordination for Texas higher education.
THECB established the Star Awards 20 years ago, in 2001, to recognize colleges and universities for exceptional contributions toward the achievement of THECB'S 60X30TX strategic plan for higher education. The 60X30TX plan aims to equip 60% of young adults (25-34) in Texas with post-secondary credentials by 2030.
A&M-Commerce and the other Star Awards winners will be honored at a reception on December 1 during the 2021 Higher Education Leadership Conference in Austin. 
Learn more about THECB and the 2021 Star Awards.