TAMUC Teams up With North Texas Universities to Provide Cross-Institutional Learning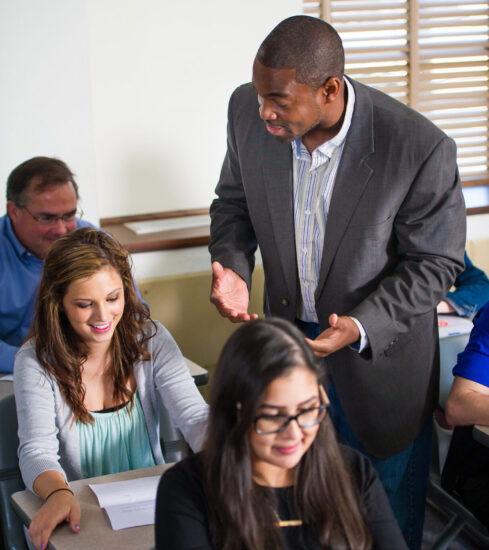 A 50-year partnership among three North Texas universities provides impactful cross-institutional learning opportunities for graduate students. The Federation of North Texas Area Universities brings together Texas Woman's University (TWU), the University of North Texas (UNT) and Texas A&M University-Commerce.
The consortium was created in 1968 by the Texas Legislature, with the help of the Texas Higher Education Coordinating Board (THECB), to leverage limited teaching resources across the three universities.
Today, the Federation continues to provide graduate students with access to the combined academic resources of all three universities. Benefits include cross-registration at member universities and the option to select professors and thesis or dissertation committee members from among Federation schools.
Master and doctoral-level students may take approved courses at any of the partner schools without completing an application or paying an application fee. Students pay tuition and fees for the selected courses to their home institution.
According to Dr. Jennifer Schroeder, dean of the A&M-Commerce Graduate School, the collaborative course offerings provide an advantage to many graduate students.
"When students are in a crunch to meet their degree requirements and they need a credit hour or two, it can be beneficial for them to take the class at a partner institution. We welcome our visiting students from TWU and UNT, and we appreciate the benefits that cross-institutional learning brings to graduate students in North Texas."
In spring 2021, approximately 50 graduate students from TWU and UNT enrolled in graduate classes at A&M-Commerce.
The Federation also hosts an annual Graduate Student Research Symposium. Schroeder explained that the event is an opportunity for graduate students from Federation universities to connect and present their research in a low-pressure environment. This year, the symposium was held virtually on April 9.
Heather Rodriguez, a graduate history student at A&M-Commerce, won second place in the humanities category for her presentation on Elizabeth Patton Crockett, second wife to Davy Crockett. Rodriguez's research will be included in the Handbook of Texas Women, published online by the Texas State Historical Association.
"I was able to share the story of a woman who helped shape Texas history, and by presenting, I could assist in encouraging continued research in the fields of women's and gender history," Rodriguez said.
Subroto Singha, a graduate computational sciences student at A&M-Commerce, won third place in the STEM category for his presentation on automated drone detection using artificial neural networks. His research study proposes a methodology to detect drones in real time as a way to protect against improper and illegal drone usage.
"This symposium gave me an opportunity to showcase my research work," Singha said. "The judges' constructive comments will definitely help me improve my future research methodology."
Dr. Andrea Graham, associate dean of the College of Science and Engineering at A&M-Commerce, was the symposium's keynote speaker. She addressed "The Post-Pandemic Shift: The engineer's role in building a more resilient society." In her speech, Graham discussed how the global pandemic is moving engineers to introduce new technologies, new ideas and new solutions for the post-pandemic world.
According to Graham, "A forum like the Federation Symposium is critical because students are exploring and testing new theories that may lead to improvements in many areas. Academic research facilitates learning and helps students grow."
For more information about the Federation of North Texas Area Universities, including cross-registration guidelines for graduate students, contact Dr. Schroeder at [email protected] or 903.886.5159.