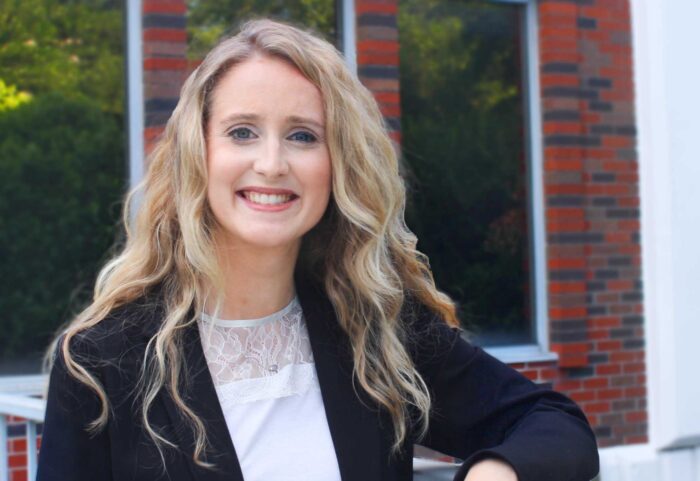 My passion is helping others be successful. Marketing is a blend of creative and analytical skills. I am working toward a career with non-profits where I can apply what I have learned in the College of Business.
Natalie White
Advisor for General Business, Applied ECO and Management
College of Business
Office
McDowell Administration, 317
The advice of an alum changed her life. In a single moment, Natalie White realized that she could make a career out of her passion. She could spend her entire life doing what she loved – and make a living from it! Natalie transferred to A&M-Commerce from Paris Junior College in 2018 to pursue a BBA in Marketing. Now, she is taking advantage of resources and opportunities at A&M-Commerce to prepare for her dream job as a marketing expert for non-profits.
A Conversation with Natalie
What draws you to your discipline?
Marketing is a blend of creative and analytical skills. I have always been interested in copywriting, advertising, selling and business. I realized that obtaining a marketing degree was a great way to combine all my interests and would allow me to have flexibility in my career options. During an alumni panel held on campus a few years ago, Julauna Dawson said, 'Think about what you would do for free and that is what your passion will be.' I realized that my passion is helping others be successful. I hope that my degree in marketing will help me find a career with a non-profit company so that I can apply what I have learned in college to my passion for helping others.
What has been one of your favorite courses to take?
One of my favorite courses was Business Communication (MGT 303) with Dr. Elva Resendez. This class taught me the importance of crafting a well-written resumé, prepared me for job interviews, and educated me on how to think and act like a professional. The knowledge I gained from this class has been incredibly useful and I have been able to apply it to many situations.
Tell us about a project you are working on.
I've had the opportunity to work closely with the marketing and branding committee to create content for the College of Business newsletter and social media pages. I've also been working closely with Marketing and Communications to develop the university website. This has been especially exciting because I am learning real-world skills that I can take with me into future careers.
Educational Background
BBA, Marketing, Texas A&M University-Commerce, 2020
Associate of Science, General Studies, Paris Junior College, 2018
Awards and Honors
President's List, 2016-2018
Dean's List, 2019
Dean's List, 2020
Phi Theta Kappa Tier 1 Scholarship
Donny David Doster Memorial Scholarship
Student Organizations
Phi Theta Kappa 2017-Present
Sigma Alpha Pi, 2019