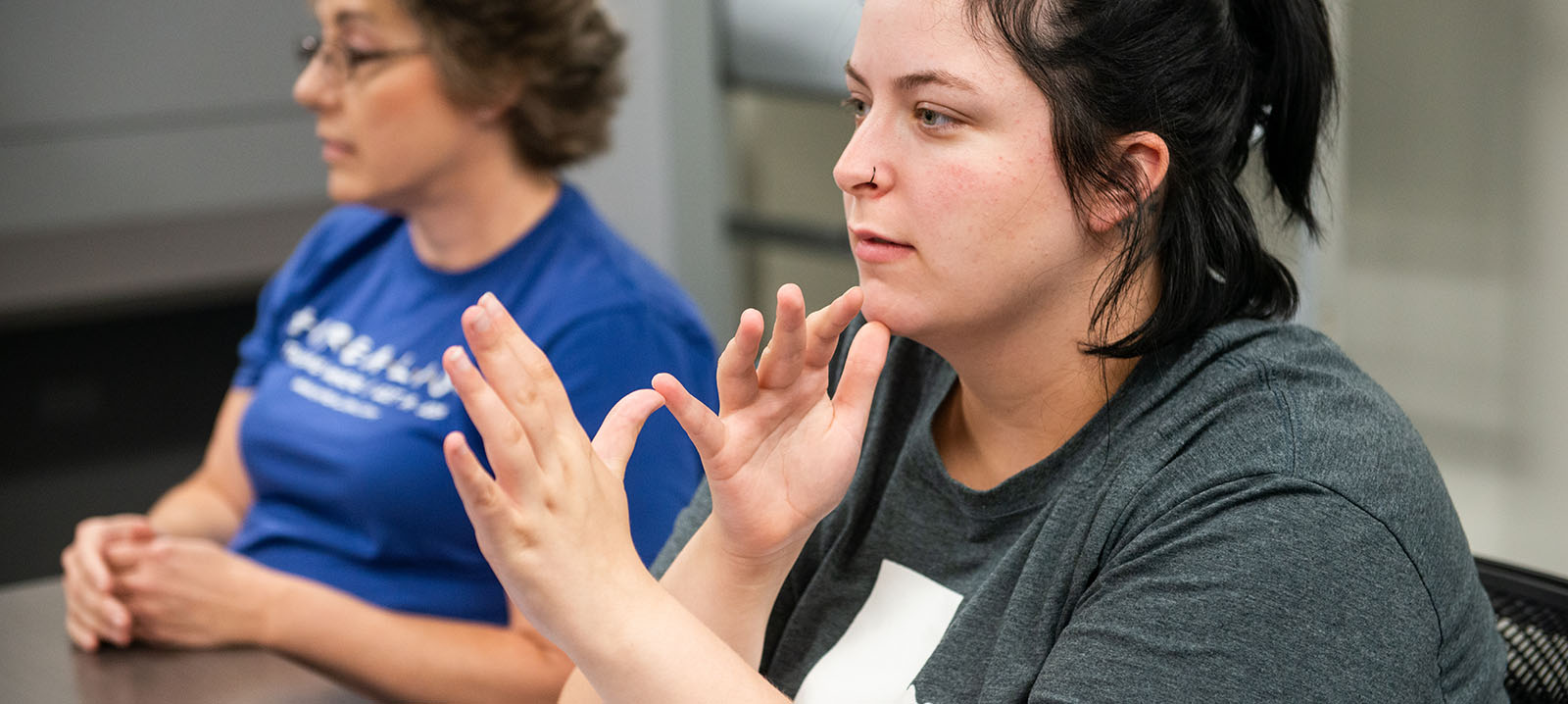 Student Disability Services
Accessible Higher Education
Student Disability Services (SDS) at A&M-Commerce provides accommodations and services to enhance accessibility for individuals with disabilities. SDS also raises awareness of disability-related issues in a supportive environment, creating a culture of inclusion where everyone is welcome, respected and supported in their drive to achieve their dreams.
Apply for Student Disability Services
To receive disability-related accommodations and services, please:
The documentation submitted to our office should be comprehensive and current according to the guidelines for documentation. Documentation should include the following:
The evaluator's name, address, telephone number(in the event our department needs to contact the evaluator), and professional credential relevant to the diagnosis(i.e. MD, Ph.D. LSSP, etc).
A clear diagnostic statement identifying the disability, including severity level.
A description of the diagnostic methodology used. Quality documentation includes a description of the diagnostic criteria, evaluation methods, procedures, tests and dates of administration, and a clinical narrative, observation, and specific test results.
A description of the student's current functional limitations or symptoms as they are directly related to the diagnostic statement, and an explanation of why the student needs accommodations.
A description of the expected progression or stability of the disability.
A description of current and past accommodations, services and/or medications.
If provided, any recommendations for accommodations, adaptive devices, assistive services, compensatory strategies and/or collateral support services included must be supported by the documentation.
Depending on the nature of the disability, documentation may need to be current, within 1-5 years depending on the nature of the disability.
The documentation must be on letterhead, typed, dated and signed.
The professional making the diagnosis of a disability should be an appropriately trained evaluator, such as a physician, psychologist, psychiatrist or educational diagnostician. For example, an audiologist would diagnose a hearing impairment; a psychiatrist, psychologist or clinical social worker would diagnose a psychological disability. Documentation from a family member or family friend is not acceptable.
Student Disability Services provides guidelines for documentation. If you have any questions about the documentation that is requested, please feel free to contact us at 903.886.5835.
We reserve the right to request additional information or evaluation. However, information regarding resources to use in obtaining an evaluation is available from our office.
We serve as the repository for medical documentation of disabilities. Documentation submitted to us is confidential and used solely for the purpose of assisting students in identifying and securing accommodations and services to support their full participation at A&M-Commerce.
Request Accommodation Letters
Request your accommodation letters from Student Disability Services at the beginning of each semester.
Accommodations are provided on an individual basis as needs arise.
Examples of accommodations include extended testing time, interpreters, note-taking, reader services, scribe services, audiobooks, and other adaptive technology.
Student Disability Services also supports students with issues and situations related to advocacy, accessibility, and on-campus housing.
Student Disability Services is a resource for information, including but not limited to, tutoring services, study skills and time management, community resources, disability awareness, and other university services.
Mission
The mission of Student Disability Services is to facilitate accessibility by providing services, accommodations, and technology for A&M-Commerce students with disabilities.
Meet our Staff
Off-Site Locations
If you have questions about testing accommodations at one of the off-site locations, contact the appropriate person from the list below.
Contact Us
Student Disability Services
P.O. Box 3011
Commerce, TX 75429-3011
Hours of Operation
Monday – Friday
8:00 a.m. – 5:00 p.m.