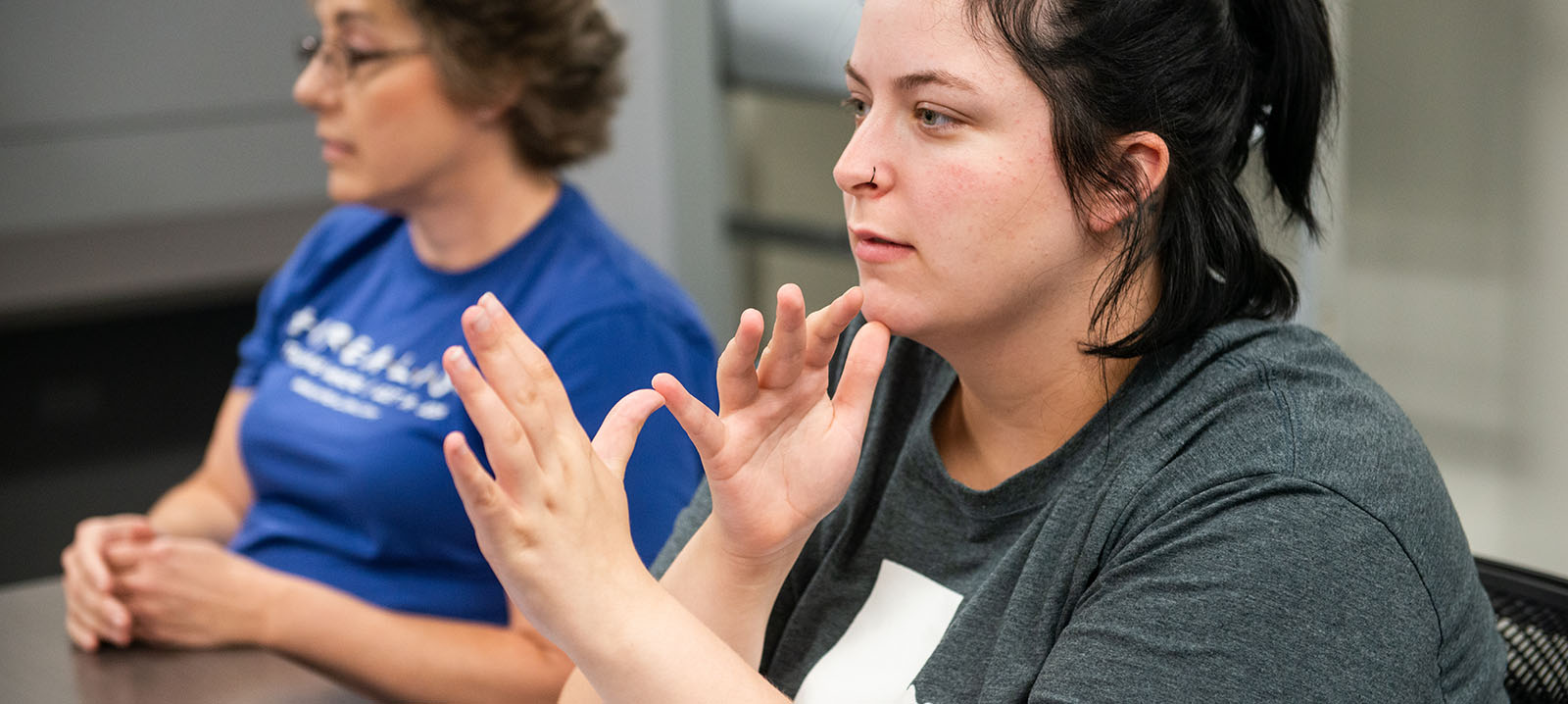 Student Disability Services :: REGISTERING WITH SDS
Apply for Student Disability Services
In order to receive disability-related accommodations and services, you should abide by the following process:
Apply and be accepted for admission to A&M-Commerce through the regular admissions process.
Complete the Student Disability Services application packet and provide current and comprehensive documentation of a diagnosed disability which requires accommodations. See guidelines for documentation information sheet.
Request your accommodation letters from Student Disability Services at the beginning of each semester.
Documentation
The documentation submitted to our office should be current according to the guidelines for documentation, comprehensive and include the following:
A specific diagnosis, including level of severity.
The specific findings in support of this diagnosis including relevant history, observations of the individual, tests administered, test results and evaluator's interpretation of those test results. For a diagnosis of Learning Disability, ADD or ADHD, a neuropsychological examination or psycho-educational evaluation is required to determine eligibility for services as a student with a disability. Objective evidence of a substantial limitation must be provided.
A description of the student's functional limitations as they are directly related to the stated disabilities and necessitate any accommodations.
The evaluator's name, address, telephone number (in the event our office needs to contact the evaluator) and professional credential relevant to the diagnosis (i.e., M.D., Ph.D., LSSP).
The documentation must be on letterhead, typed, dated and signed.
How To Get Documentation
The professional making the diagnosis of a disability should be an appropriately trained evaluator, such as a physician, psychologist, psychiatrist or educational diagnostician. For example, an audiologist would diagnose a hearing impairment; a psychiatrist, psychologist or clinical social worker would diagnose a psychological disability. Documentation from a family member or family friend is not acceptable.
Student Disability Services provides guidelines for documentation. If you have any questions about the documentation that is requested, please feel free to contact us at 903.886.5835.
We reserve the right to request additional information or evaluation. However, information regarding resources to use in obtaining an evaluation is available from our office.
We serve as the repository for medical documentation of disabilities. Documentation submitted to us is confidential and used solely for the purpose of assisting students in identifying and securing accommodations and services to support their full participation at A&M-Commerce.
Request AccomModation Letters
Request your accommodation letters from Student Disability Services at the beginning of each semester.
Accommodations are provided on an individual basis as needs arise.
Examples of accommodations include extended testing time, interpreters, note-taking, reader services, scribe services, audio books and other adaptive technology.
Although not accommodations, Student Disability Services supports students with issues and situations related to advocacy, accessibility and on-campus housing.
Student Disability Services is a resource for information including, but not limited to, tutoring services, study skills and time management, community resources, disability awareness and various university services.
Back to menu
Student Disability Services :: Atypical Ambassadors
Atypical Ambassadors

Student Disability Services is entering its third year of a pilot project for students with Autism called the Atypical Ambassadors. The mission of the Atypical Ambassador project is to create an inclusive and welcoming environment at A&M-Commerce for selected Atypical Ambassadors where various campus stakeholders will provide mentorship, workshops and resources to improve outcomes for students with Autism and increase awareness regarding Autism within the A&M-Commerce community.
For more information, contact Alexis Duggan at [email protected].
Back to menu
Student Disability Services :: Meet our Faculty and Staff
Meet our Staff
Off-Site Locations
If you have questions about testing accommodations at one of the off-site locations, contact the appropriate person from the list below.
Back to menu
Student Disability Services :: FAQS
Frequently Asked Questions
What are some of the special requests that can be made regarding housing?
Some special housing requests that can be made, based on application and documentation submitted, include but are not limited to:
Wheelchair accessible room
First floor room
Strobe light (for hearing impaired students)
Braille (for room numbers)
Bathtub or roll-in shower
Use of a service animal or emotional support animal
Can a parent request accommodation for their child?
All requests for accommodations must come directly from the student.
Does the Individuals with Disabilities Act (IDEA) apply to higher education?
The Individuals with Disabilities Education Act is a law administered by the Office of Special Education Programs in the Office of Special Education and Rehabilitative Services in the U.S. Department of Education. This law does not apply to higher education.
Does a student have to inform A&M-Commerce that they have a disability?
A student with a disability does not have to disclose their disability to A&M-Commerce. Disclosure of a disability is on a voluntary basis. However, a student will not receive accommodations unless they disclose this information to the office of Student Disability Services.
What is the impact of the Americans with Disabilities Act on Higher Education of 1990?
The Americans with Disabilities Act on Higher Education of 1990 impacts the whole institution including activities, facilities, programs, and employment. In regards to academics, the Americans with Disabilities Act on Higher Education 1990 required higher education institutions to provide reasonable accommodations for students.
Can parents speak with Student Disability Services regarding their child's situation?
As a young adult, the student may choose to have information about his or her case discussed with his or her parent(s) through signing a FERPA release form directly from our office. The release cannot be a blanket release for the student's entire college career.
What is the difference in the responsibilities of high schools and higher education institutions?
The responsibilities towards students with disabilities in institutions of higher education are very different from those of high schools. High schools are required under IDEA to identify the educational needs of students with disabilities and provide free and appropriate education.
This responsibility is not required of higher education institutions. Higher education institutions are required to provide appropriate and reasonable academic accommodations to ensure that a student with a disability is not discriminated against. The student is responsible for disclosing his or her disability to the institution and seeking accommodations.
Can a student's personal attendant live in the residence hall?
A student's personal attendant may live in the residence hall provided that the personal attendant is a student at A&M-Commerce. The university does not provide a personal attendant but can assist the student in finding one. A student needing a personal attendant should discuss this with the department of Student Disability Services.
SDS is not required to provide the following: Readers or study devices for courses not offered by A&M-Commerce; individually prescribed devices; personal attendants; and tutorial services.
Can a student with on-campus special housing needs request a specific roommate?
A student with on-campus special housing needs may request a specific roommate. Both students must apply for housing with the Department of Residence Life before the request can be processed.
How will I know if I am approved for on-campus special housing?
If the documentation supports the requested need, SDS will send the student a letter stating what accommodations have been approved. A copy of the letter will be forwarded to Residential Living and Learning. If the housing request is not supported by the documentation, then SDS will contact the student to notify them of the decision or to request additional documentation.
Once the Accommodation Approval Letter has been reviewed by Residential Living and Learning staff, they will notify the student of their placement or may contact the student with further options available.
Are there accessible rooms on campus?
Back to menu
Student Disability Services :: Contact
Contact Us
Student Disability Services
P.O. Box 3011
Commerce, TX 75429-3011
Hours of Operation
Monday – Friday
8:00 a.m. – 5:00 p.m.
Back to menu
START YOUR JOURNEY! Two buttons
START YOUR JOURNEY!
Back to menu